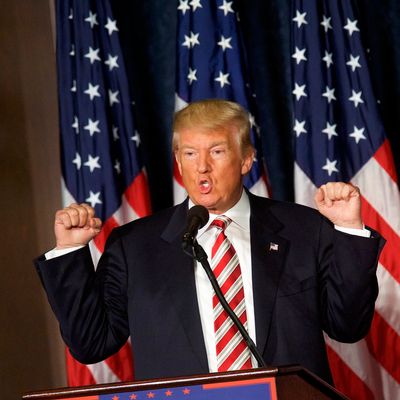 Teaching by example.
Photo: Mark Makela/Getty Images
There were multiple reports of violence between protestors and Trump supporters on Monday night at a Trump rally in Asheville, North Carolina.
A 69-year-old protester claims she was punched outside the rally by a Trump supporter. She allegedly fell over her oxygen tank before being taken to the hospital.
Teter claimed that she told one Trump supporter that he had better learn Russian, he punched her in the face: "He stopped in his tracks," she told local news station WLOS. "He turned around and just cold-cocked me." In the end, Teter only suffered a minor cut and some sore ribs.
Based on Teter's report, police put out a warrant for the arrest of 73-year-old Richard Campbell, a retired engineer from South Carolina. But Campbell's attorneys have challenged Teter's version of events and said Campbell has cataract-impaired eyesight and never hit the protester. "She [Teter] assaulted him," Campbell's attorney, Ruth Smith, told the Asheville Citizen-Times. "You can't come up to strangers especially in that environment and grab them from behind."
A Facebook video surfaced that appears to show the elderly Campbell holding hands with his wife as she leads him through the crowd. A woman, assumed to be Teter, approaches him from behind. The video gets shaky and unfocused after that, so it's hard to see exactly what happened between the two:
In all, five people were arrested at the rally. In another video taken at the rally, a man can be seen getting physical with protesters in a balcony while Trump is giving his speech. He slaps a man in the face and a woman in the chest, and lashes out at other protesters before a security guard gets between them. While the guard does not confront the violent man, he does escort the protesters out.
During the rally, when the scuffle erupted in the balcony, Donald Trump took a break from his speech to address the violence: "Is there anywhere in American more fun to be than a Trump rally?"
* September 15: This story has been updated.