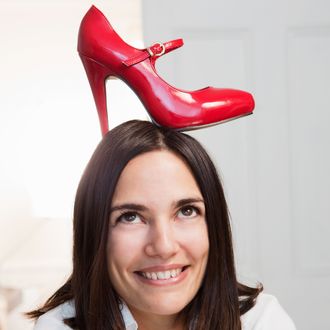 The shoe is on the head.
Photo: Biddiboo/Getty Images
Have you heard about live video? It's huge! There's Facebook, Twitch, Periscope, YouNow, YouTube, UStream, Livestream — a galaxy of livestreaming apps that allow you to interact with your fans immediately, in real time, through an audiovisual interface.
Fascinating. The future, truly, is now. I have just one request: Put shoe on head.
Believe it or not, live video existed before smartphones. It was not very popular, but it had its proponents. In high school, I occasionally congregated on Stickam, a group video-chat service, with friends I met on a video-game forum (in between the time I spent dating my many girlfriends and winning several championships in sports, and so on). That's where I first heard the request to put my footwear on the opposite of my feet.
"Put shoe on head" is exactly what it sounds like. When you are in the comments section of a livestream, ask the person on camera to put their shoe on their head.
It began on YTMND, an almost-defunct mid-'00s website that hosted looping, user-created pairings of image and sound. Outside of the site, users would hang out on Ventrilo, a VoIP program that many PC gamers preferred for games like Quake.
According YTMND's community-run wiki:
[S]ome Ventrilo users (which included several 4chan members) decided to raid LiveJasmin, a porn website based around live and private webcam shows using Macromedia Flash. These raids consisted of flooding performers' rooms with YTMND users and harassing them using the built-in chat box provided for each performer. The first milestone was getting a performer to pick up her keyboard and show it on screen (which several later did). This "Put X On Y" style of harassment eventually turned to "Put Shoe On Head" (the blunt and fragmented sentence seemed to have a stronger effect).
The first user to successfully get a target to put shoe on head, and then make a YTMND out of it, was FlyingLaserJesus, in June of 2006. His legacy lives on at shoehead.ytmnd.com.
The goofy request soon spread across the burgeoning live-video spectrum. It became popular on UStream, one of the largest livestreaming services at the time. Not much record of the trend exists, but a search for "shoeonhead" on Flickr brings up a few dozen results (according to a blog post from 2008, the URL Shoe-On-Head.com at one time redirected to that Flickr page).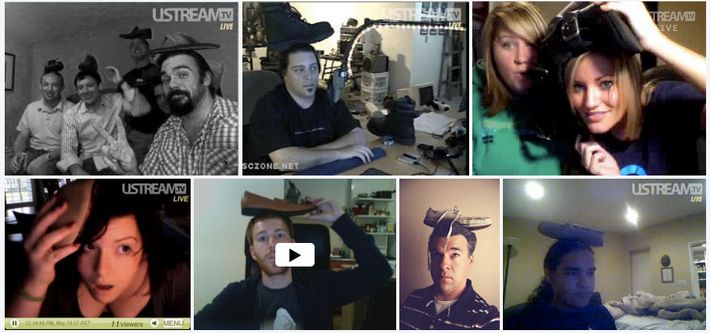 My proposal is that we bring back "Put shoe on head." Livestreaming is a world of infinite possibilities. It doesn't have to just be Q&As and cooking demos and video-game play-throughs. In fact, the success of the most well-known internet stars can be attributed to their unflagging gameness when it comes to viewer and fan requests.
We have the power to treat livestreamers like our puppets, so let's use our powers for something not good, not evil, but flat-out stupid. The next time you get a notification that "X has gone live!" head into the comments section and do your part. Tell them to "put shoe on head."