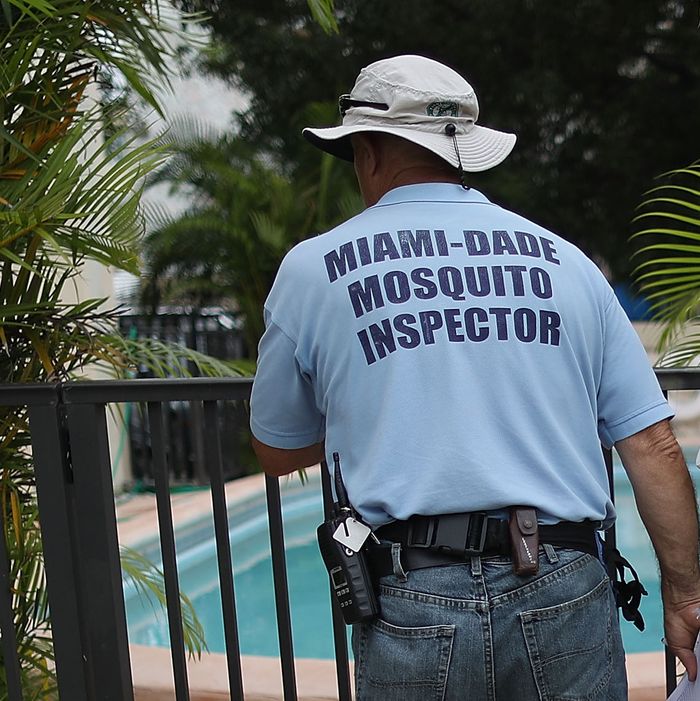 An inspector checking for mosquito breeding places in Miami Beach.
Photo: Joe Raedle/Getty Images
Florida Governor Rick Scott announced on Friday night that the area of Miami Beach where the Zika virus is being actively transmitted by mosquitoes has now tripled in size, according to the Miami Herald. The expansion now includes almost all of Miami Beach, including South and Middle Beach, an area that is essential to Miami-Dade County's tourism industry. Five people were found to have caught Zika in these areas within a month of each other, and a total of 93 cases of Miami-transmitted Zika have now been recorded overall. Zika-positive mosquitoes have also been trapped a total of five times in South Beach.
The Herald notes that the largest resort in the county, Miami Beach's Fontainebleau Hotel, has reported its worst three-week revenue period in 15 years, and another hotel reported losing $100,000 because of short-term cancellations. The newly expanded Zika zone will be immediately swept for standing water, and larvicide spraying is set to begin on Saturday. In the meantime, Miami's other active-transmission zone for Zika, the neighborhood of Wynwood, is expected to have that designation lifted on Monday.
Congress has still not approved a funding request to help fight the spread of the virus, though the partisan impasse over the assistance appears to be nearing an end. Zika infection during pregnancy can lead to serious birth defects, and the virus has also been linked to an increase in cases of Guillain-Barré syndrome. Zika's potential long-term health effects are still being investigated.