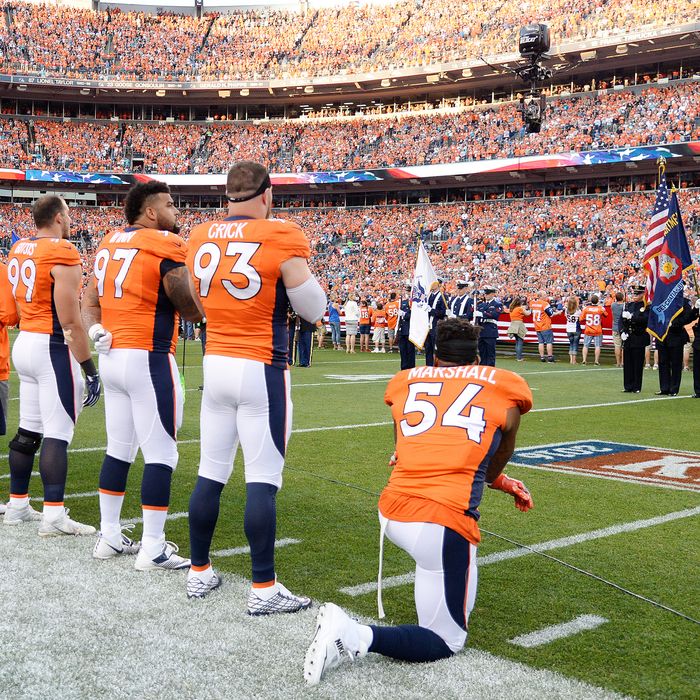 Photo: John Leyba/Denver Post via Getty Images
Before Thursday night's NFL season opener in Denver, Broncos linebacker Brandon Marshall took a knee as the national anthem blared throughout Mile High Stadium, making him the first player to do so with a national audience looking on. A college teammate of Colin Kaepernick, Marshall said after the game, "I'm not against the military, the police or America at all. I'm against social injustice." He also said he plans to make donations to charities that focus on racial inequity and veterans' issues.
With the first NFL Sunday of the season days away, national-anthem protests have become the biggest story in the league. During the preseason, only two players joined Kaepernick in not standing for the anthem, his teammate Eric Reid and Seattle Seahawks corner Jeremy Lane. But as the regular season begins, it seems possible that more will take up protest.
But it's hard to know. No one is telegraphing their intentions. For Marshall, it was a difficult personal decision that he only made at the last minute. Ultimately, he decided to drop to a knee because "This is our only platform to really be heard."
"I feel like a lot of time people want us to shut up and entertain them, shut up and play football, but we have voices as well," he said. "We're actually educated individuals that went to college."
While Marshall and those who came before him acted alone, the Seattle Seahawks are planning a team-wide demonstration before its game Sunday. They're keeping the details a secret, but wide receiver Doug Baldwin described it like this:
Adding to the intrigue about potential protests on Sunday is the date: September 11. The Seahawks have reportedly taken that into consideration and plan to honor the military as a part of its demonstration.
Congressman Hakeem Smith, a U.S. representative for parts of Brooklyn and Queens, thinks the date should stop players from doing anything that could be seen as disrespectful to the flag, the country, or the military. "The appropriate thing to do would be to suspend any protest," he told ESPN.
Meanwhile, it's beginning to become clear that Kaepernick's protest is working. Not only has he made a discussion of social justice central in the NFL, but he's getting money into the hands of the people he's trying to help. After he pledged last week to give to charity the first $1 million of his salary and any proceeds he sees from jersey sales, the 49ers followed his lead yesterday and announced the team's intention to give $1 million "to the cause of improving racial and economic inequality" in the Bay Area.