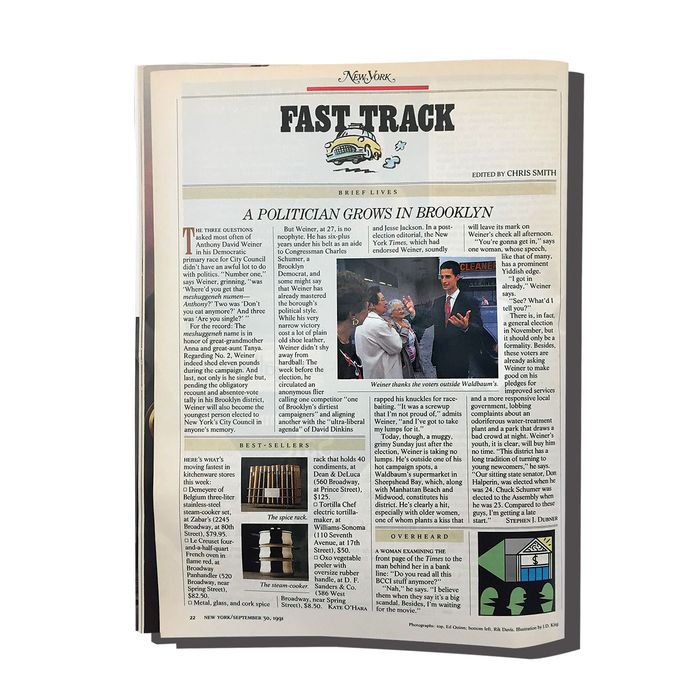 "Fast Track," edited by Chris Smith in the September 30, 1991, issue of New York magazine.
September 30, 1991
The three questions asked most often of Anthony David Weiner in his Democratic primary race for City Council didn't have an awful lot to do with politics. "Number one," says Weiner, grinning, "was 'Where'd you get that meshuggener numen — Anthony?' Two was 'Don't you eat anymore?' And three was 'Are you single?' "
For the record: The meshuggener name is in honor of great-grandmother Anna and great-aunt Tanya. Regarding No. 2, Weiner indeed shed eleven pounds during the campaign. And last, not only is he single but, pending the obligatory recount and absentee-vote tally in his Brooklyn district, Weiner [at 27] will also become the youngest person elected to New York's City Council in anyone's memory … He's clearly a hit, especially with older women, one of whom plants a kiss that will leave its mark on Weiner's cheek all afternoon.
"You're gonna get in," says one woman, whose speech, like that of many, has a prominent Yiddish edge.
"I got in already," Weiner says.
"See? What'd I tell you?"
March 25, 1996
Brooklyn councilman Anthony Weiner says [Mayor Giuliani] and his people "are still pricks." Two weeks ago, the pols in Weiner's Sheepshead Bay neighborhood met to discuss the parking situation at the reopened Lundy's restaurant. They called the Department of Transportation, asking that someone attend. A simple request … No dice. "It was made clear to me that I was still on 'The List,' " says Weiner, who had challenged the administration during the fires-in-the-stairwells public-­housing brouhaha.
May 27, 1996
"I think I'm badly miscast as a pretty boy. I don't want to be John F. Kennedy Jr. I want to have a future." —On his appearance in Cosmopolitan's "101 Gorgeous Real Life Bachelors" issue
December 3, 2001
Once the cool-guy councilman, he's now "the congressman with the best dancehall-reggae collection," as his friend, video director David Nelson, puts it … He's the representative who keeps a collection of Napster files on his office computer (officially, Weiner has no position on the service, but he seems to have made good personal use of it), and … asked a Sony lobbyist to track down a PlayStation 2 for him.
May 3, 2009
The day after he was in Bushwick, Weiner … is out in the Bronx for the Throgs Neck St. Patrick's Day Parade … About halfway through the route, [councilmember] Bill de Blasio comes up to Weiner … Indicating the bullhorn, de Blasio says to Weiner, "You're incorrigible."
"No," Weiner says. "I'm corrigible."
June 6, 2011
In an emotional press conference just now in which he choked up … Weiner admitted that last Friday night, he accidentally tweeted that infamous boner photo to a girl in Seattle instead of direct-messaging it — as "a joke," he claimed. "I panicked, I took it down, and said I had been hacked," he explained.
July 14, 2013
The candidate was saying now that the electorate was "prepared to give me a second chance. I've got to prove myself." His only misgiving was that … he would miss the quiet days of his exile, chilling with [his son] Jordan, feeling connected to the procreative chain of being.
Weiner pondered the idea for a moment, then he shouted, "Huma? Hey, honey? Huma! Was I happy before I started running for mayor?"
There was no answer. Huma was in another room, out of earshot. Weiner repeated the question. "Huma? Honey?"
When Huma came back into the living room, she said, "Oh, God, yes. You were happy."
"Would you say I'm less happy now that I'm running for mayor? You know, much less happy or slightly less happy?"
Huma looked at Weiner with bemusement.
July 23, 2015
Anthony Weiner, whose career went up in flames because of his inability to handle PR crises, is the newest consultant at a PR firm that helps companies through PR crises, according to the New York Post. MWW … hired Weiner to serve as an expert on D.C. politics and New York City. The firm's clients include Gold's Gym, Netflix, and Ball Park Franks.
August 13, 2016, two weeks before the latest photos of Weiner surfaced
Former congress­man Anthony Weiner slid into the Twitter DMs of a user named "Nikki" for a little West Coast flirtation, only to find himself catfished by a Republican college student using a female friend's account. Although their direct messages stayed pretty PG-13, Weiner gave his phone number to "Nikki" with an offer to share his location … "I can confirm that I am indeed deceptively strong like a mongoose," Weiner wrote in an email to the New York Post, describing the encounter as a "playful joust with an obvious catfish."
*This article appears in the September 5, 2016, issue of New York Magazine.