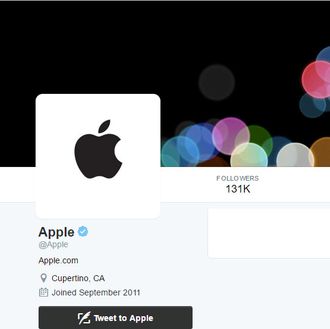 Sometime in the early hours of Friday morning, Apple joined the rest of us internet-using heathens and activated its Twitter. The account, under the handle @Apple, has yet to actually, you know, tweet anything, but has already racked up 131,000 followers. (Not bad engagement.)
This isn't entirely new; the company has owned the eponymous handle since 2011, Business Insider reports. But today, the handle was given an avatar picture (bye-bye, little egg) and verified. The profile has also been customized with the same colorful, dotted image that was used on the invitations for Apple's press conference next week, where the company will reportedly unveil the iPhone 7.
Perhaps the company will use its newly devised Twitter to livetweet the event. Or maybe this is all some elaborate ruse to create hype and the company will continue its age-old tradition of never tweeting.