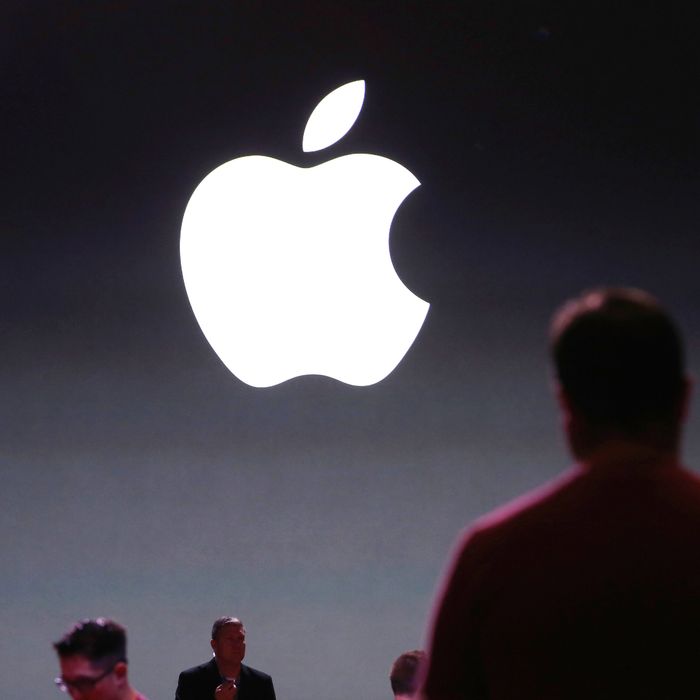 Photo: Justin Sullivan/Getty Images
After months of rumors, hype, and Apple cryptically activating its 5-year-dormant Twitter account, the big day is finally here. But just in case you didn't spend several hours of your Wednesday with your eyes glued to a livestream featuring Tim Cook, Craig Federighi's hair, and (hopefully) many, many segments starring the wonderful Bozoma Saint John, we've rounded up the most important parts for you here.
1. The iPhone 7 is here and it's pretty much exactly what we expected.
Possibly the worst kept secret in tech, Tim Cook finally finally announced the iPhone 7, which, like its predecessor, comes in standard and plus models. It will be available in a high-gloss jet black, a matte black, silver, gold, and rose gold.The home button is now force sensitive and the iPhone is water- and dust-resistant. The iPhone starts at 32GB, rather than the traditional 16GB.
2. Both the iPhone 7 and iPhone 7 Plus are getting a camera upgrade.
The iPhone 7 offers optical image stabilization and a wider lens for sharper, better images. A new 12 megapixel sensor works 60 percent faster than Apple's older phone cameras and an LED Tru Tone flash offers 50 percent more light for overall improvement in coloring and better photos in low-light environments. The iPhone 7 Plus offers a dual camera, allowing for more nuanced zoom capabilities. The front-facing camera on both the iPhone 7 and the iPhone 7 Plus has also been increased to seven megapixels (up from five in the 6S), which means better selfies.
3. The headphone jack is no more.
It happened. Apple's iPhone 7 will not have the traditional 3.5 mm headphone jack. Instead, users will have a few options. Option one: Use an lightning-port adapter, which will come in the box with the new iPhones. Or option two: Buy a pair of wireless headphones, like Apple's new AirPods or a set of new Beats.
4. You can now use your Apple Watch to play Pokémon Go.
Apple wants you to get healthy while catching pocket monsters in watchOS 3. The AR game is now compatible with Apple Watch and the device will tell you how far you need to walk to catch a Snorlax or hatch an egg and will alert you when you're near a Pokéstop. When you're done playing, you can track how many calories you've burned and how far you've traveled.
5. Speaking of, there is a new Apple Watch on the block. And in the pool.
Apple Watch Series 2 is "swim-proof," meaning you can actually wear it underwater, unlike the previous device which was just "splash-proof." It's water-resistant up to 50 meters. (This is about the same as your standard sports watch.) The new Apple Watch also contains an S2 processing chip which allows for sharper graphics, higher detail in apps, and better display brightness. Series 2 also has built-in GPS and is available in a white ceramic finish.
6. Nike and Apple really want you to get off the couch.
Apple Watch Series 2 also has a Nike+ edition, engineered to motivate you to get out and start running. Distance and pace are displayed clearly and the device's "Are We Running Today?" feature will nudge you to get out there and just do it. (Sorry.) It is available in four tonal shades that range from black to gray.

7. Mario is coming to the app store.
A new game called Super Mario Run will soon be available in the app store thanks to a partnership between Nintendo and Apple. You'll be able to play in battle mode with users around the world, and the game is designed to be played with just one hand. (Though if you're an iPhone Plus owner with Trump hands, that might be a little tricky.)
8. Group projects are going to get easier.
Apple's iWork suite (Pages, Numbers, and Keynote) is going to be enabled with real-time collaboration. Now, you and your colleagues can update slideshows, spreadsheets, and documents from a number of devices simultaneously and in real time.