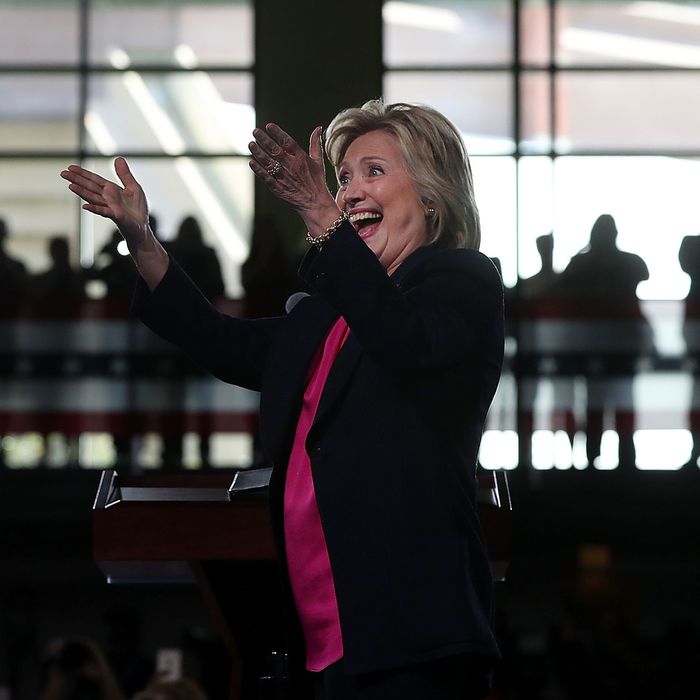 Great fracking news!
Photo: Justin Sullivan/Getty Images
Historically, America's oil and gas industry has shown a great fondness for the one major political party on Earth that believes "climate change" is a hoax dreamed up by effete tree huggers, grant-chasing scientists and/or the Chinese. Since 1989, the energy sector has devoted 60 percent of its $500 million in political donations to the GOP, according to the Center for Responsive Politics. This campaign cycle, Big Oil has been even more one-sided in its largesse: According to The Wall Street Journal, executives and employees of energy companies have directed 90 percent of their campaign donations to Republican candidates.
But when those energy execs look to the top of the ticket, their gaze shifts left. Per the Journal:
Individuals who work for oil and natural-gas companies donated $149,000 to Mr. Trump's GOP campaign through July 30, the end of the most recent fundraising period, compared with $525,000 to Mrs. Clinton.

The industry's executives and employees also have donated $470,000 to a fundraising account Mr. Trump established with the Republican National Committee, compared with $650,000 to a similar account Mrs. Clinton set up with the Democrats, according to new calculations provided to The Wall Street Journal by the nonpartisan Center for Responsive Politics.
The oil industry's readiness for Hillary comes in spite of Trump's promises to repeal Obama's Clean Power Plan, put a moratorium on new environmental regulations, command TransCanada to build the Keystone XL pipeline, and pursue a range of other policies ostensibly aimed at ensuring that our grandchildren get to watch our coastal cities get swallowed by the sea.
It appears that many energy executives have concluded that political stability is worth the price of greater regulation (even if ecological stability is not).
"These are unsettling times that require a steady hand," the Houston Chronicle, a newspaper generally sensitive to Big Oil's interests, wrote in its endorsement of Clinton. "That's not Donald Trump."
Employees at energy companies tend to agree. So much so, they gave nearly as much money to Bernie "ban fracking now" Sanders as they have to Donald Trump, donating $115,000 to the Vermont senator — just $34,000 less than they've directed to the Republican nominee.