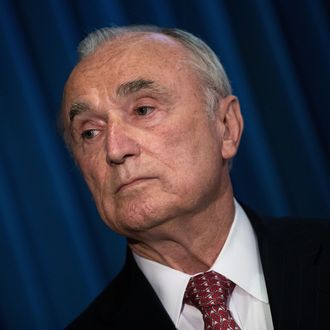 Photo: Drew Angerer/Getty Images
Thursday was Bill Bratton's last full day as NYPD commissioner, and, as he told CBS 2, the 68-year-old is "ready to go." "I'll be retired for exactly two days before I start my new job that will have me traveling all over the world and I'll be concentrating entirely in the private sector," he added, referring to his new gig at Teneo, the controversial consulting firm co-founded by former Bill Clinton aide Doug Band.
Bratton, who announced his impending resignation last month, spent the morning at his final CompStat meeting. There, he credited the crime-tracking system with helping to make New York "the safest large city in America" more than two decades after he instituted it during his first stint as the head of the NYPD. That period was also marked by the implementation of Bratton's signature "broken windows" policing style, which had become a serious point of contention by the time he returned to the job in 2014.
In the afternoon, a "grinning" Bratton was seen entering City Hall for a meeting with Mayor de Blasio. He left looking equally pleased, telling reporters that the mayor had given him a bowl of "very delicious" Bull's Eye candy as a parting gift. He added that he planned to spend the night patrolling the subway with his successor, current Head of Department James O'Neill. "As an old transit cop myself I'm very happy and excited to do it," he said. "Who knows, maybe we'll make an arrest." Everybody has their own idea of a good time.