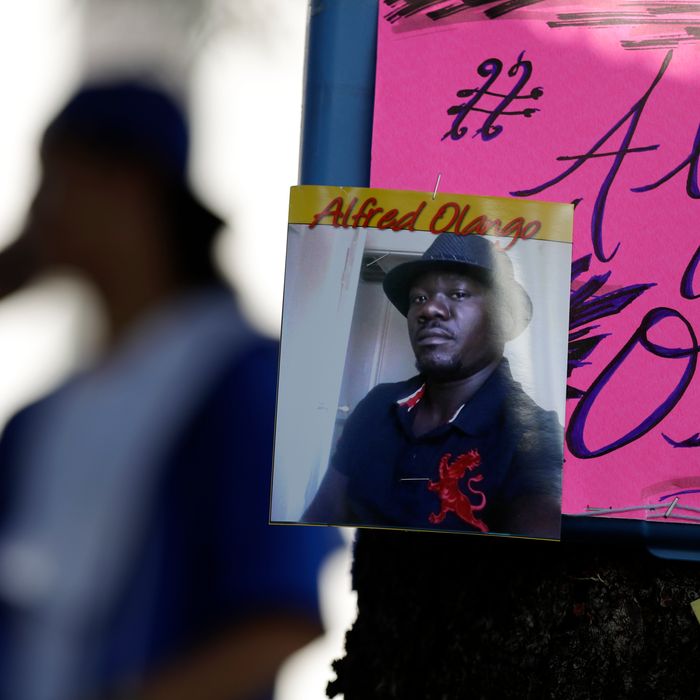 A man stands behind a picture of Alfred Olango during a protest on September 28, 2016 in El Cajon, California.
Photo: Gregory Bull/AP
On Wednesday, police in El Cajon, California released more information about the fatal police shooting of an unarmed black man as protests continued for a second night.

The victim, 38-year-old Alfred Okwera Olango, was shot on Tuesday afternoon in the San Diego suburb after a woman who identified herself as his sister called 911 to report that he was walking in traffic and "not acting like himself."
Police said on Tuesday that Olango ignored their directions, and then "drew an object from his front pants pocket, placed both hands together on it, and extended it rapidly toward the officers taking what appeared to be a shooting stance." One officer fired a Taser and another fired his gun several times. Olango was pronounced dead at a local hospital.

Initially, police would only say that the object Olango was holding was not a weapon. On Wednesday, they identified it as a vape smoking device that had a silver cylinder that was three inches long and one inch wide.
A witness recorded the shooting on a cell phone and turned the footage over to police, ABC News reports. El Cajon Mayor Bill Wells said at a press conference that he's seen the footage, and "saw a man who was distraught" and in pain. The video has not been made public.

Wells said the 911 caller indicated that Olango had a mental illness, and all El Cajon police officers receive psychiatric training – however, mental health clinicians who would usually assist in such a case were addressing another incident at the time.

"There have been several questions about the Psychiatric Emergency Response Team (PERT)," police said in a statement on Wednesday. "The El Cajon Police Department does have an agreement with Community Research Foundation/PERT which allows certified licensed clinicians to partner with police officers in the field in order to provide direct support for mental health calls. On 9/27/16, during the hours of this incident, there was a PERT clinician with a police officer. At the specific time of this incident, that team was on a different radio call that was also PERT related. They were not immediately available."
The San Diego Union-Tribune reported that Olango was a refugee who witnessed horrors in Idi Amin's Uganda, and came to the United States when he was 12. He had several brushes with the law as a young man and wound up in federal prison after he was pulled over with a 9mm semi-automatic pistol in his vehicle. He was released in 2009 and friends said he'd been working as a chef for the past few years.

Vicky Ellis, Olango's former girlfriend, and Anna Diaz, Ellis' 24-year-old daughter, said he was not mentally disabled, but he was distraught after his childhood friend, a fellow refugee, died suddenly on Friday at age 31. "He was just so depressed," Ellis said. "I'd never heard him so upset."
Hundreds marched in the streets of El Cajon on Wednesday to protest the shooting and demand that the video be released. The officer who shot Olango has yet to be identified.