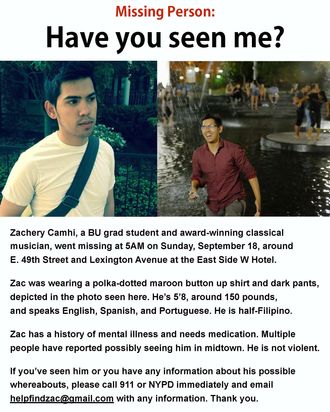 Zachery Camhi and a friend drove down to New York City last weekend to pick up Camhi's instrument, a double bass. The two were coming back to the W hotel on Lexington Avenue and East 49th Street early last Sunday, around 5 a.m. Camhi told his friend he needed to use the bathroom. "He got out," said another friend and fellow music student Travis Rapoza, "and never came back."
Camhi, a 25-year-old Boston University graduate student and classical musician, was diagnosed with bipolar disorder in 2013 and, according to friends, might have been slipping on his medication. He went missing before while in the throes of a manic episode — for hours, maybe, but never very long. Camhi has now been lost for more than a week.
Camhi did go inside the W hotel, but he quickly walked out. He lost his cell phone earlier; he did not take his wallet. Friends and family have received tips, reports of sightings in midtown, not far from the hotel: Penn Station and Lincoln Center, where witnesses say they saw a man matching his description in a hospital gown. A report from Bryant Park, on Thursday afternoon, seemed to be promising, too. Nothing has panned out.
Friends, some who've come in from out of town, have contacted the NYPD, and they have been blanketing parts of Manhattan with missing-persons posters. They've scoured Bryant Park and the surrounding neighborhoods, interviewing employees, homeless people, visitors — anyone who might have spotted Camhi. Friends and family — Camhi is from Indianapolis — have set up a Facebook page, where they're posting updates and pleading for information.
According to Rapoza, Camhi has just one class left at Boston University, where he's an accomplished double-bassist studying under the Boston Symphony Orchestra's principal bassist. He's played at Tanglewood and, per the Boston Globe, recently competed in New York City, which is why he was back in the city — an errand to retrieve that bass. Camhi has racked up musical achievements, but he's still struggled with the stigma of his bipolar diagnosis and the medication's effects: a sense that it dulled part of who he was, as a performer and a person. "The stigma to accept that he has a mental illness has held him back," Rapoza wrote in a Facebook post, "He recently stopped taking his medication again. This is why he ran away, and this is why he needs to be found."