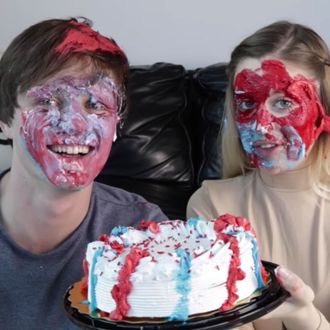 It has been a few weeks since our favorite teenage YouTube couple fled the city of Chicago and Brianna Joy and Jaelin White seem to be doing just fine back home, in Arizona. In this week's vlog installment, the two participate in a fun game called the "husband and wife tag" where they quiz each other on personal details in an attempt to determine, as the video's title explains in all caps, "WHO IS THE BETTER SPOUSE." To up the ante, whenever someone gets a question wrong, they get a cupcake to the face. (Tag games like these are fairly popular on the YouTube circuit. The frosting, however, is of the Whites' own devising.)
As a relative newcomer to the White fandom, I have learned so much about my favorite internet couple from this particular vlog. Jaelin's all-time favorite food is coconut shrimp, not Chipotle as Brianna guessed. Brianna has NEVER had a boyfriend named Alex. Jaelin's ideal weekend is spent "paintballing" and Brianna does not share his dream of visiting the Maldives. Riveting stuff!
Thank you, Brianna and Jaelin, for this highly educational video. Now please go do something about all of the frosting you flung at your carpet.