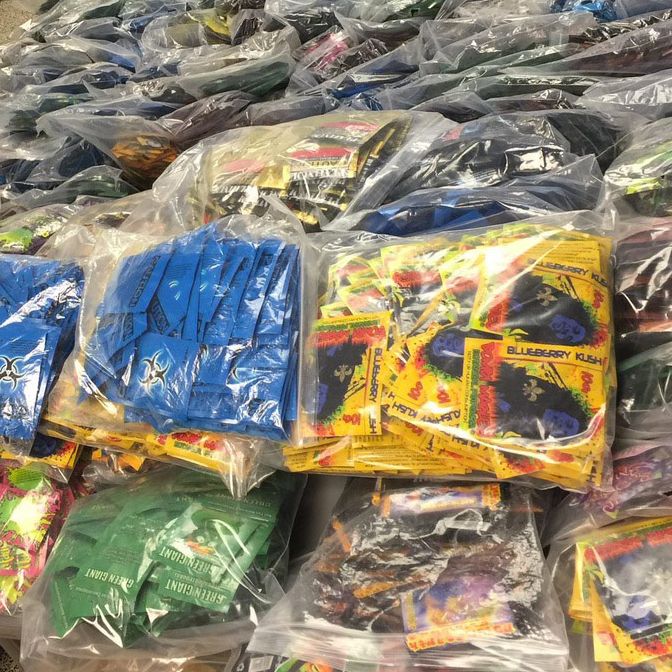 An employee of the deli linked to Brooklyn's mass K2 overdose in July has been nabbed after the NYPD uncovered more than 30,000 packets of the crazy-making drug in a single storage unit. Cops arrested two men, 35-year-old Josean Torres and 30-year-old Jesus Martinez, at the facility when they made the bust.
Torres, who rented the unit, works at Big Boy Deli in Bedford-Stuyvesant, Brooklyn. Two months ago, more than 30 people were hospitalized after overdosing on a bad batch of the K2 in neighborhood. Police and residents pointed to the deli as the main spice distributor in an area along the border of Bed-Stuy and Bushwick, which residents described as a "Zombieland." Torres had previously been arrested in the spring for selling untaxed cigarettes and K2 out of the Dream Burner Smoke Shop, which is next door to the deli, reports DNAinfo. (Torres was also arrested for peddling Viagara and spice from the same bodega in 2014.)
The manager at the Big Boy Deli told DNAinfo the establishment used to sell the dirt-cheap drug, but stopped when the city broadened its ban on the possession, sale, or manufacture of anything marketed as synthetic marijuana. "We still need to keep up the pressure against Big Boy Deli and Dream Burner Smoke Shop," Inspector Scott Henderson, head of the 81st precinct in Brooklyn, told DNAinfo. "Because it is evident that they are still involved in this illegal activity."
Torres and Martinez were both charged with unlawful manufacture, distribution, or sale of a synthetic cannabinoid, and another charge relating to possession as intent to sell.
According to the Department of Health, officials have not pinpointed what caused the spate of really bad K2 reactions, which, in addition to the Bed-Stuy incident, send about 130 people citywide to the emergency room in that one July week alone.