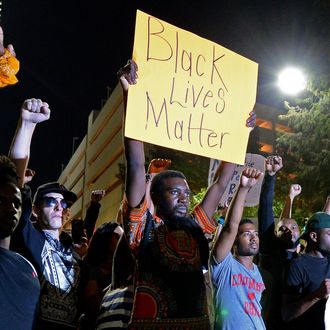 Protesters in Charlotte.
Photo: Jeff Siner/TNS via Getty Images
As demonstrations in Charlotte, North Carolina, continued for a seventh night on Tuesday, across the country another black man was fatally shot by police.

Police in El Cajon, California, a suburb of San Diego, say they shot a 30-year-old man after he ignored multiple instructions from officers and "concealed his hands in his pockets." Police Chief Jeff Davis said the man, who has not been formally identified, "drew an object from his front pants pocket, placed both hands together on it, and extended it rapidly toward the officers taking what appeared to be a shooting stance."
One officer fired a Taser as another fired his gun several times. Davis would not say what the object was, but he acknowledged that no weapon was recovered from the scene.

Police said they were responding to a call placed at about 2 p.m. from a woman who identified herself as the man's sister. She said he was "not acting like himself" and walking in traffic. According to ABC News, a video posted to Facebook shows an unidentified woman telling police that she warned the man to obey their orders.

"I said: 'Take your hand out your pocket, baby, or they're going to shoot you.' He said, 'no, no, no,'" the woman said. "When he lifted his hand out … he did have something in his hand, but it wasn't no gun, and that's when they shot him."
Another woman in the video, apparently the man's sister, is shrieking and crying, telling police that her brother is mentally ill. "I just called for help, and you came and killed him," she said.
Shortly after the shooting, several dozen protesters gathered at the scene. Davis asked people to remain calm and said there would be a thorough investigation of the incident. "This will be transparent," he said. "This will be looked at by multiple sets of eyes, and not just ours."