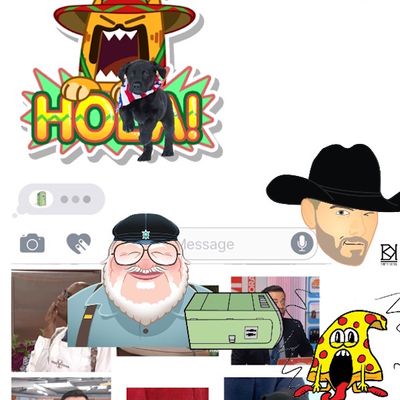 For a long, long time, Apple's implicit promise was "it just works." You pay more at the gates to our walled garden, and once inside we'll make sure your experience is beautiful and impeccably smooth. And while the beauty and smoothness may have been overstated, the promise was still largely kept — especially compared to Apple's various competitors — thanks to great hardware and, perhaps more important, great software. iOS, after all, was software that worked so seamlessly with its hardware that it changed the world, full stop.
But Apple has opened up the walls to the garden significantly in iOS 10, allowing apps and developers more access to their core software than ever before. As Brian Feldman called it after Apple's WWDC presentation, it was the "Android-ification of iOS." It's a noble goal, but so far Apple seems to have whiffed on it. And nowhere is that clearer than the frenzied mess that is Messages.
Apple's SMS-and-messaging app (dubbed Messages in 2010) was a significant component of why the iPhone so quickly took over the world. It's hard to remember this, but there was a time when text messages weren't threaded like an IM conversation. You would dig through Sent folders and individual contacts, never really getting a holistic view of what the conversation was. Text messaging, unless you had a full keyboard, was done T9-style and was largely call-and-response. "Meet a 8 at amc 20 4 hitch?" "y." (This was 2005 or so, remember, and back then Hitch was a very good movie.) Other phones had introduced threaded SMS messages — the Treo was early on the scene — but like a lot of things Apple did in the mid-'00s, the company took a good idea and perfected it, and did it on a device that was so singular that nearly every phone sold since is a variation of the original iPhone's form.
Messages also benefited from being two things: It was a SMS service you could use to send a text to anyone, anywhere and, after 2010, a locked-in messaging service that you could use with other iPhone users and avoid going over your carrier's text-message rate limit (back when those were as stingy as 100 per month).
But with iOS 10, Messages is now a semi-broken product. Sure, it's fun to annoy your friends and loved ones with it. But even sending an obnoxious toilet sticker means tapping the left-hand arrow in Messages to expand the bottom bar into a menu, tapping the "A" for the Apps icon once you're in that menu, then tapping the four-icon button in the left-hand corner, then finding the "+" symbol for the App Store, and finally downloading those toilet stickers.
Many of the utility apps, like Fandango, require both people to download and install the Fandango app (which also just installs the vanilla version of the Fandango app on your phone) in order to send messages back and forth to figure out exactly when to see the Hitch revival showing at the IFC Center. And some of the apps, despite being highlighted in the App Store as being good for Messages, just didn't work until I did a hard reset of the Messages app — I wasn't able to get Kayak or the Connect Four knockoff Four in a Row working until I shut down and restarted Messages, and some of my co-workers can't seem to get them to work at all, even after a hard reset.

And this doesn't get into the whole #porngate fiasco that Apple is already quickly working to shut down, where searching for words like "butt" or "schlong" or even "huge" in the #images iMessage app turned up very NSFW GIFs, thanks to Bing's GIF search API. (Apple has already shut down searches for those words and plenty of other surprisingly NSFW terms completely.)
Some of this can be chalked up to first-day jitters. You can beta test for years, but once something is out in the wild, people will find ways to break it. The more that you open up your software to outside sources, the more likely stuff is to go sideways on you. And for years the standard advice has been to hold off on Apple's huge OS updates for a few days while the bugs get worked out. (And there certainly seem to be some large ones this time around.)
The underlying issue is that the new version of Messages, ignoring the broken apps and ability to see some disturbing My Little Pony imagery pretty easily, is just not that great to use. The desktop integration of Message apps is terrible, the way apps are stored as an endless series of dots or short row of icons is quickly going to grow cumbersome for anyone who uses more than a few apps and sticker packs, and I'm dreading the phone call from my parents where I try to explain how to find the Store in Messages. The apps that work, like Words With Friends and Fandango, have a two-step send process where it's easy to think you've sent something but instead it's still just sitting around, waiting to be fired off. And there's no app for Messages I've used so far that makes communication better. It's still simpler and easier to text "Hey you wanna go see Hitch at 8:30?" and reply "Fuck YES" than to go into Fandango, find the movie, select the time, and then send over, get approval, and buy the tickets.
It's easy to understand why Apple decided to rip apart Messages and let everyone into the pool. People spend increasing amounts of time in chat programs, and Messages has become, slowly and almost secretly, a chat juggernaut — if not, as some tech writers would have it, "the most important social network in your life." It's a space Apple wants to be in — especially to sell sticker packs for $1.99 a pop. But they missed a couple of key opportunities to make it really useful. Having to go into Apple's (already not great!) App Store to get anything is a hassle, especially when you have a text interface right in front of you that you could use as a simple command line to get stuff.
It could be that chat apps are not quite the business opportunity that Silicon Valley is hoping they are — that, ultimately, there's no smart, user-friendly way to integrate third-party apps to a simple messaging service. But Apple's peers and rivals are having a lot less trouble. Facebook Messenger's chat bots are easier and quicker to access — a quick message to Poncho and I'm getting my overly cutesy weather updates every morning and evening — and Snapchat is flat-out more fun, even when it's just used to annoy friends.
These are kinks, and they will be worked out. Apple is a company with enough money and enough fans that it can release unpolished versions of something, take a year or two, iterate a bit, and then stick the landing. (Not to mention that anyone using an iPhone to text is locked in to Messages for the foreseeable future.) Or, at least, that's how it seemed to be for years.
But smartphones, like TVs or microwaves, have largely plateaued. Until someone invents an entirely new way to power phones, each year all we get is incremental change — slightly thinner, slightly bigger, slightly faster. So the real battle is now waged in software, not hardware. And it's software where Apple seems to have its biggest problems.
Try remember the last time Apple released an update or a piece of software on its phones that you actually wanted and were excited about. For me, that was probably FaceTime — which came out in 2010. Everything since has either been unneeded (why use iBooks when I can use the Kindle app?), unwanted (looking at you Apple Tips, a.k.a. Apple's Clippy), or actually downgraded my phone (those awful few months in 2012 when Apple Maps was the only option available for iPhone users).
And with Google creating better iOS apps than Apple itself and Apple's own missteps in software (will the Podcasts app ever actually be easy to use?), Apple could find itself in the position of providing a solid phone and good hardware for other people to create stunning software on. It's a nice business — especially with the margins Apple gets on its phones — but it doesn't change the world.