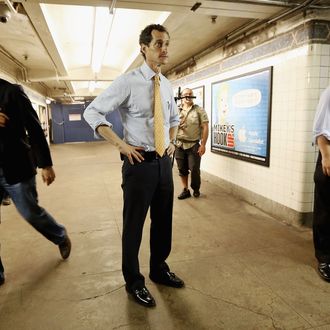 Anthony Weiner.
Photo: Mario Tama/Getty Images
Days after Anthony Weiner was caught up in yet another sexting scandal, the disgraced politician confirmed that the New York City Administration for Children's Services is investigating his conduct with respect to his 4-year-old son, Jordan.
Weiner's most recent humiliation prompted the probe. The ex-congressman apparently sent a "crotch shot" to an admirer. His young son appeared in the photograph, curled up next to Weiner in bed. "Someone just climbed into my bed," Weiner reportedly wrote before sending the picture, according to the lewd messages the New York Post got its hands on.
Weiner told the New York Times Thursday that Children's Services had sent a letter to his mother's house about an inquiry, but not to him. "Crazy if you ask me," he said to the Times, referring to the odd mailing address. According to Weiner, the letter was not particularly detailed, and he had followed up with the agency for more information.
The New York Post reported Wednesday that the child-welfare agency had initiated an investigation. An anonymous agency worker informed the tabloid that representatives had visited the Union Square apartment belonging to Weiner and his now-estranged wife, Huma Abedin. Weiner denied that account to the Post. Abedin, a top Clinton aide who separated from Weiner after his latest indiscretion, did not comment.