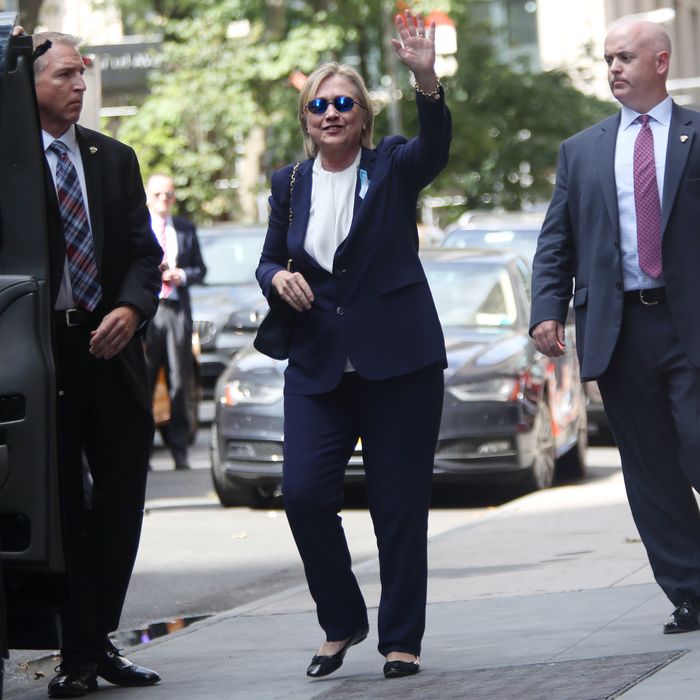 She feels great! (For a person riddled with pneumonia.)
Photo: Yana Paskova/The Washington Post/Getty Images
Donald Trump has repeatedly accused Hillary Clinton of having poor judgement, and now she's proven he's right … when it comes to her own health … partially because Trump and his surrogates keep saying she's dying.

The Clinton team spent Monday trying to spin the candidate's medical episode and belated revelation that she has pneumonia as a sign of her doggedness. "She just wanted to plow through it," campaign manager Robby Mook told MSNBC, "and I think that's part of what's going to make her a great president."
Clinton, who canceled a swing through California to rest, called in to Anderson Cooper's show on Monday night to explain why she ignored her doctor's "very wise advice" to rest for five days following her diagnosis on Friday. "I just want to get this over and done with and get back on the trail as soon as possible," she said.
Now she's "feeling so much better," and she suggested the Sunday incident at a 9/11 memorial ceremony wasn't as serious as it appeared. She said she felt dizzy and overheated and lost her balance, but she never lost consciousness. "I could feel how hot and humid it was. I felt overheated. I decided that I did need to leave. And as soon as I got into the air-conditioned van, I cooled off, I got some water, and very quickly, I felt better," she said.
As for why she didn't publicly reveal her illness until forced to, she said, "I just didn't think it was going to be that big of deal."
"Obviously I should have gotten some rest sooner — I probably would have been better off if I just pulled down my schedule on Friday, but like a lot of people, I thought that I could just keep going forward and power through it. And obviously that didn't work out so well," she added.
Clinton said her campaign will release more information about her health, and took the opportunity to goad Trump into releasing his tax returns and medical records that were not hastily scribbled in a limo.
"Compare everything you know about me with my opponent. I think it's time he met the same level of disclosure that I have for years," Clinton told Cooper. "It's really past time for him to be held to the same standards, not just as me, but as anybody else who has sought this job."
Unfortunately for Trump, the Clinton team has just raised the level of disclosure even higher; we now know the candidate has a troubled relationship with water.

We can't imagine why.