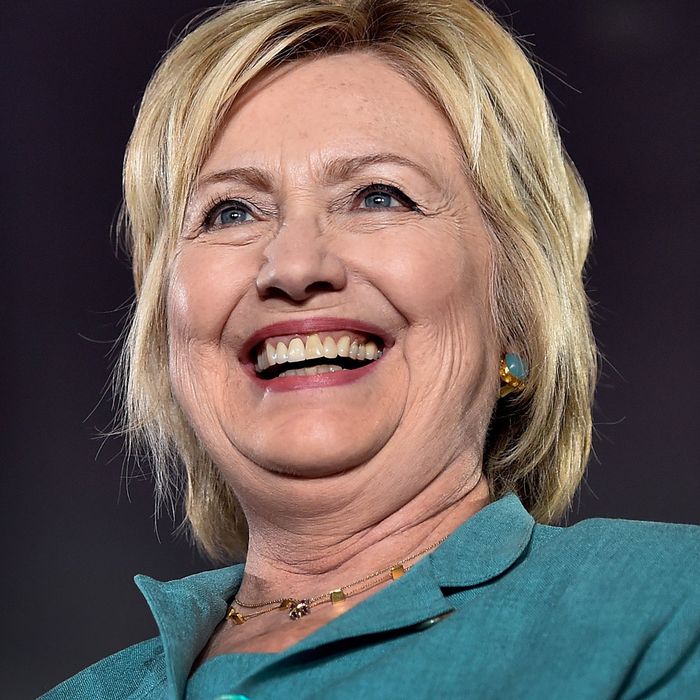 "You hear the one about the ISIS fighter who wants to Make America Hate Again?"
Photo: David Becker/Getty Images
Democrats and Republicans have radically different views of Hillary Clinton. But if there's one thing all Americans agree on, it's that the former secretary of State is extremely funny. No matter what you think of Clinton's policies, you have to admit, her riff on the Pokémon Go craze was spot-on:
But on Thursday, Clinton revealed that she saves her best material for Israel, offering this impression of a pro-Trump ISIS militant:
To be fair, Clinton was actually making a substantive point. Asked why she does not refer to the fight against ISIS as a "war on radical Islam," Clinton argued that linking the militants' murderous creed with the faith tradition of 2 billion people "actually serves the purpose of the radical jihadists."
To support that claim, the Democratic nominee cited a report from Time magazine's Matthew Olsen. Here is the full context of the remark:
"I found it even surprising how clear and compelling the case was where he quoted ISIS spokespeople rooting for Donald Trump's victory because Trump has made Islam and Muslims a part of his campaign and basically Matt Olsen argues that the jihadists see this as a great gift," Mrs. Clinton said. "They are saying, 'Oh, please Allah, make Trump president of America.'"
And, in fact, that is basically what ISIS militants say in Olsen's article:
In August, one ISIS spokesman wrote: "I ask Allah to deliver America to Trump." Another supporter declared: "The 'facilitation' of Trump's arrival in the White House must be a priority for jihadists at any cost!!!" ISIS is working to drum up support for the candidate it has called "the perfect enemy."
It's hard to imagine a better set of quotes for establishing that Islamophobic rhetoric is not "tough," but, rather, counterproductive. So, it makes total sense that Clinton would deploy them, especially when speaking before an audience that's sensitive to threats of terrorism.
But as the New York Times' Emma Roller suggests, it's hard to see how uttering the phrase "war on radical Islam" recklessly links ISIS with the Muslim faith, but quoting ISIS militants praying to Allah does not.
Nonetheless, Clinton's underlying argument is an important one — even if it's unlikely to win her votes in the crucial swing districts of the occupied West Bank.