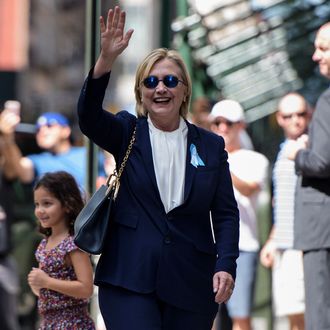 Clinton's body double greets reporters.
Photo: BRENDAN SMIALOWSKI/AFP/Getty Images
In yet another example of how poorly the Clinton campaign is handling the candidate's illness, on Wednesday it released her physician's update on her pneumonia in the form of a detailed two-page letter, rather than having the doctor appear before a TV audience.

Dr. Lisa Bardack, the chair of internal medicine at CareMount Medical in Mount Kisco, New York, said Clinton went to see her on Friday, September 2, saying she'd been suffering from a low-grade fever, congestion, and fatigue for one day. She was put on a short course of antibiotics, and advised to rest and continue taking her medication for seasonal allergies.
Over the next few days her congestion worsened and she developed a cough. On Friday, September 9, Clinton visited Bardack's office again, and had a chest CT scan. David Scheiner, who was Barack Obama's longtime physician before Obama was elected president, praised this unusual move, telling the Washington Post, "Because she has had blood clots, I think in the back of the doctor's mind was, could she possibly have pulmonary embolism? That was a very smart move on the doctor's part."
Clinton was diagnosed with mild, non-contagious bacteria pneumonia, and told to rest. As we all know, she didn't take that advice, and became dizzy and dehydrated at a 9/11 memorial event on Sunday. Another doctor who has not treated Clinton told the Post that the antibiotic she's been taking, Levaquin, can cause dizziness and lightheadedness, which may have contributed to the incident.
The candidate finally took a few days off from the campaign, and Bardack said she has "since been evaluated by me several times and continues to improve."

Bardack included the results of various tests Clinton has had in the past month, including her cholesterol level and blood pressure. "She is recovering well with antibiotics and rest," the doctor concluded. "She continues to remain healthy and fit to serve as President of the United States."

However, earlier on Wednesday, Donald Trump proved that he's even healthier than Clinton when he dramatically pulled his own two-page report from his pocket during a taping of The Dr. Oz Show. Now, no one can claim that Trump hasn't released a complete assessment of his health; this time his physician, Dr. Harold N. Bornstein, didn't write the letter in five minutes while a Trump limo driver waited outside.

We won't know all of Dr. Bornstein's findings until the episode airs on Thursday, but according to audience members, Trump has a high testosterone level. That's probably why he finally broke today after restraining himself from commenting on Clinton's failing health for three whole days.

"You think this is easy? In this beautiful room that is 122 degrees," Trump said during a rally in Ohio. (Politico notes it was actually chillier than usual.) "It is hot and it is always hot when I perform, because the crowds are so big, these rooms were not designed for this kind of crowd.
"I don't know folks, do you think Hillary could stand up here for an hour?"
Hey, not fair — that's for Dr. Oz to decide.