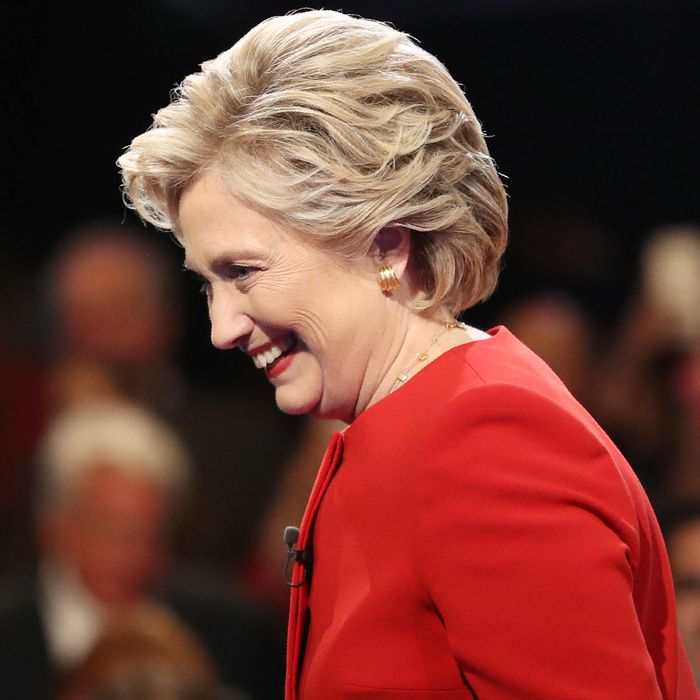 Over the weekend, Morning Consult's tracking poll put Donald Trump one point ahead of Hillary Clinton. After Monday night's debate, it has the Democratic nominee leading by three.
In the post-debate survey of a four-way race, Clinton bests Trump 41 to 38 percent, while Libertarian candidate Gary Johnson claims 8 percent and Green Party nominee Jill Stein carries 4. In Morning Consult's previous poll, Trump led Clinton 39 to 38.
A large plurality of the survey's respondents saw Clinton as the winner of Fight Night at Hofstra, with 49 percent declaring the Democratic nominee the debate's winner, including 18 percent of Republicans. Just 27 percent said that the angry man with the sniffles had carried the day. More critically, 9 percent of respondents said the debate had changed their minds about whom to vote for. Which is a rather large figure, considering the polarization of the electorate.
As of this writing, the only other post-debate survey is the L.A. Times/USC tracking poll, which has Trump leading by four points, an advantage roughly twice as large as it was at last week's end. However, that tracking poll uses a weighted average of past results and includes only one day of post-debate polling. It has also been a pro-Trump outlier for the entire cycle. So, it probably doesn't tell us much about the effect of Monday's contest, and its voter model should be viewed with some skepticism. But the poll does suggest that Trump's campaign might have been gaining steam — right up until it crashed against the rocky shores of Long Island.
For an amusing, if unscientific, measure of Trump's shortcomings Monday night, have a glance at this New York Times write-up of post-debate coffee-shop conversations in West Chester, Pennsylvania. In "several dozen interviews" in the suburb, the Times appears to have found exactly one woman who was impressed with the GOP nominee's performance:
Not everyone thought Mr. Trump appeared unprepared for the White House.

Barb Haag of West Chester, a retired teacher of the emotionally disturbed, said Mr. Trump's interruptions did not bother her. "Kids interrupt you all the time if they have a point to make," she said.
Among the Republican nominee's aides, satisfaction with the debate's outcome was similarly rare. Trump's advisers told the Times Tuesday that they plan to adopt a new strategy for the upcoming town-hall debate, one that involves "drilling the Republican nominee on crucial answers, facts and counterattacks" and "coaching him on ways to whack Mrs. Clinton on issues even if he is not asked about them."
Which is to say: The new strategy is to have the candidate actually prepare. There appears to be just one hiccup with that plan:
Whether he is open to practicing meticulously is a major concern, however, according to some of these advisers and others close to Mr. Trump.
It's hard work trying to get a man too lazy to perform the basic tasks of campaigning into the most powerful office on planet Earth. But Trump's aides, selflessly, carry on with their sacred task. America must always come first.