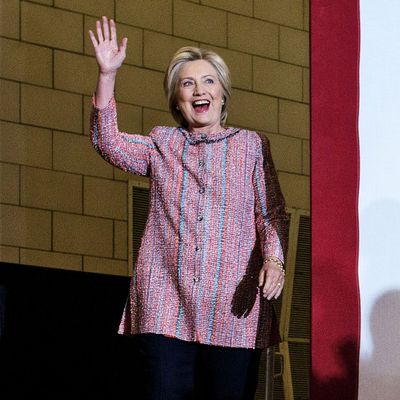 Photo: Brendan Smialowski/AFP/Getty Images
Hillary Clinton returned to the campaign trail Thursday — and to an emphasis on her passion for public service.
After coming out to James Brown's "I Feel Good," Clinton told supporters in North Carolina that getting sidelined by pneumonia had helped her "reconnect with what this whole campaign is about."
"I certainly feel lucky — when I am under the weather, I can afford to take a few days off. Millions of Americans can't. They either go to work sick or they lose a paycheck," Clinton said. "I have met so many people living on a razor's edge, one illness away from losing their job."
Clinton then articulated the principle behind her proposed expansions to social insurance, saying that losing one's job due to sickness "goes against everything we stand for as Americans, because some things should not come down to luck."
The Democratic nominee proceeded to make the case for why the American people should chose a wonk over a "showman."

"When it comes to public service, I'm better at the service part than the public part," Clinton said. "I sweat the details."
Clinton described her interest in the exact amount of lead in Flint's water — and the precise interest rate on college graduates' student loans — while suggesting that her "opponent" may not be concerned with such details.
"I confess, I'll never be the showman my opponent is," Clinton said. "But I am going to deliver for you."

Clinton's reemergence comes as a batch of polls show Donald Trump gaining ground on the Democratic nominee. If Clinton's illness helped her reconnect to her own motivation for running, it also gave her campaign time to rethink its strategy. In a statement late Wednesday night, Clinton communications director Jennifer Palmieri promised a renewed focus on the candidate's "aspirational vision" for the country.
"My opponent has America all wrong," Clinton said Thursday. "There's nothing we can't do when we come together as one nation."

If recent polls hold up, Clinton may prove righter than she would like: America really does seem to be capable of anything.