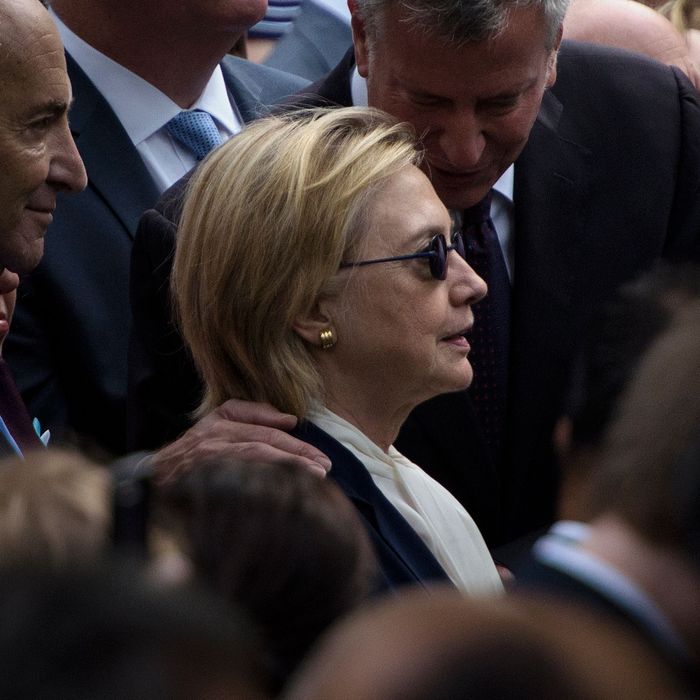 Hillary Clinton, prior to leaving the ceremony.
Photo: Brendan Smialowski/AFP/Getty Images
Hillary Clinton left a 9/11 anniversary event on Sunday morning in New York after feeling ill. While the Clinton campaign originally said that she left the morning service at the National September 11 Memorial because she was feeling "overheated," they later released a statement from her doctor that explained she was dehydrated and overheated as a result of pneumonia. After nearly fainting while waiting for her motorcade, Clinton traveled to her daughter's Manhattan apartment and recovered. Late on Sunday, the Clinton team announced that a trip to California planned for Monday and Tuesday, which included fundraisers and a taping of The Ellen DeGeneres Show, has been canceled.

Clinton left the 9/11 service around 9:30 a.m., about 90 minutes after arriving, and it seems that none of the pool of reporters present at the ceremony witnessed Clinton's departure, nor were they informed of her whereabouts or condition until later in the morning. Fox News reporter Rick Leventhal originally said that an anonymous law enforcement source told him Clinton had a "medical episode" — she appeared faint, stumbled as her motorcade arrived, and needed to be helped into a van by the Secret Service. This video of the moment seems to confirm that account:
A zoomed-in version:
The temperature in Manhattan on Sunday morning was around 80 degrees with high humidity. The Daily Beast reports that a senior law-enforcement official told them that Clinton looked pale when she arrived at the ceremony, but Zdenek Gazda, who shot the above video, told BuzzFeed News that Clinton looked "fine" as she walked to the curb, though she was clearly being escorted out of the event:
Gazda and law-enforcement sources add that Clinton appeared to lose a shoe while being helped into the van.
Just before noon on Sunday, Clinton left her daughter's apartment and told reporters she was "feeling great," saying, "It's a beautiful day in New York," according to the New York Times. She then went home to Chappaqua, New York, where she was examined by Dr. Lisa Bardack.
The Times also notes that Clinton has been struggling with seasonal allergies over the past few weeks, and early Sunday evening, the Clinton campaign released a statement from Clinton's personal physician, Dr. Lisa R. Bardack, which indicated the episode on Sunday morning was at least partially related to that:
Secretary Clinton has been experiencing a cough related to allergies. On Friday, during a follow up evaluation of her prolonged cough, she was diagnosed with pneumonia. She was put on antibiotics, and advised to rest and modify her schedule. While at this morning's event, she became overheated and dehydrated. I have just examined her and she is now re-hydrated and recovering nicely.
Nonetheless, the news stories suggesting Clinton's fainting spell "shakes up the race" are already published, and the reporters who travel with Clinton are already pointing out that they weren't made aware that Clinton was ill before her diagnosis was released. It's also not clear why the campaign didn't just mention the pneumonia right away, rather than saying she had merely "overheated."
Donald Trump also attended the event at the 9/11 memorial on Sunday morning. He and his surrogates have aggressively fanned theories that Clinton is secretly in poor health, despite a lack of evidence to support the claim. Last year, Dr. Bardack reported that the candidate was in excellent health, a medical opinion she reiterated again last month. In an uncharacteristic move, Trump is refraining from commenting on Clinton's illness, though his supporters are certainly not showing the same restraint.

Neither Clinton nor Trump have released their full medical records, though the summary letter from Clinton's physician contains much more detail than a similar, shorter letter from Trump's physician. In the Washington Post on Friday, President Obama's former physician David L. Scheiner argued that it's important for both candidates to release more information, since, at their advanced ages, "Stuff begins to happen." He also offered a detailed take on the information that Clinton has released thus far:
We were told that Clinton has an underactive thyroid that is being treated with a replacement hormone and that she has a history of suffering thrombophlebitis (venous blood clots) in her legs. This leads me to wonder if these clots were provoked by trauma or some other cause, since unprovoked clots have a more worrisome prognosis. Around the time of her 2012 fall and concussion, Clinton suffered a venous thrombosis in her brain, and she is now on a blood thinner called Coumadin. This is a difficult drug to control, and close monitoring of prothrombin times — a measure of how long it takes a person's blood to clot — is necessary. We physicians should see a record of her prothrombin times to assess adequacy of control. Being on Coumadin, she would have to avoid certain foods, such as green leafy vegetables, and avoid medications with problematic interactions. There are new anticoagulant medications that don't require such monitoring or diet and drug restrictions. Why isn't she on this more efficacious medication?

It took Clinton up to six months to make a full recovery, and for two months, she had double vision. This was not a simple concussion. In 2013, her doctor's letter reported, her neurologic exam was normal. But that was three years ago. Concussions can cause cognitive decline. Would a current neuro-psychologic exam show any change?

This is all somewhat unfair to Clinton, however, who ends up being placed under greater scrutiny as a consequence of acting more responsibly than her opponent. We can ask specific questions about her health because she has been willing to share some important information, even if it is inadequate. In contrast, we know nothing about Trump's health.

On that note, looking ahead:
News also broke on Friday that Trump will reveal his "personal health regimen" this week on Dr. Oz's television program, which is a roughly half-factual science show.