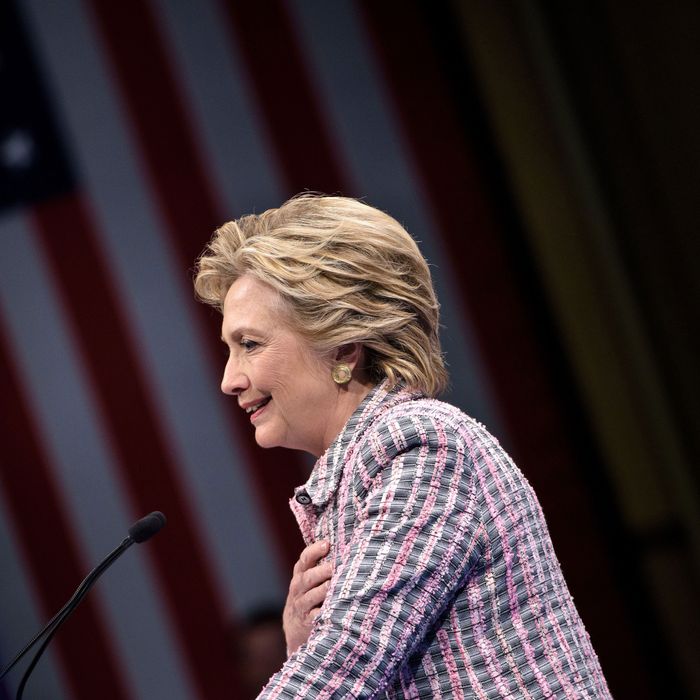 Photo: Brendan Smialowski/AFP/Getty Images
On Monday, Donald Trump spent much of the first presidential debate bragging about his talent for tax evasion, the fact that he doesn't discriminate against black people at all of his properties, and that time he forced Barack Obama to release his birth certificate.
The American people weren't impressed. And a new batch of polls suggests the mogul's performance set him back in the states that matter most.
Hillary Clinton gained the most ground in Suffolk University's latest survey of Nevada, which puts the Democratic nominee ahead of Trump 44 to 38 percent. Clinton had trailed in every poll of the Silver State released this month, and no poll this year put her ahead by more than 4. In mid-August, Suffolk showed Clinton leading Trump by just 2 percentage points.
Monday's debate seems to have improved Clinton's standing among Nevadans — of the respondents who saw the contest, 57 percent thought Clinton won, while just 23 percent thought Trump did.
A new poll out of Florida tells a similar story. In a post-debate survey by Mason-Dixon Polling & Research, Clinton leads Trump 46 to 42 percent. In the firm's last poll of the Sunshine State back in late August, Clinton led by only 2 points. Notably, the poll shows third-party contenders Gary Johnson and Jill Stein both on the cusp of becoming non-entities — only 4 percent of Floridians support Johnson, while just one percent back Stein.
Meanwhile, Clinton has opened up a 7-point lead in New Hampshire, according to a new survey from MassINC Polling Group/WBUR-FM. That margin is among Clinton's best in recent polls of the Granite State, although it's a considerable step down from WBUR-FM's last survey — back in early July, the station showed her on top by 17.
Nonetheless, the debate appears to have buoyed Clinton in New Hampshire, as respondents overwhelmingly favored her performance Monday night.
Finally, the Detroit News' latest poll of Michigan has Clinton ahead by 7, which is the best margin she's posted there since early August. The Wolverine State has been reliably blue in recent cycles, but Trump's strength among white voters without college degrees has allowed him to keep the state mildly competitive. This latest survey suggests Trump has as much of a chance of turning Michigan red as Clinton does of flipping South Carolina.
In Michigan, as elsewhere, voters thought Clinton won the debate by a more than two-to-one margin.
Still, as the Trump campaign has relentlessly noted, the Republican nominee was the clear winner in polls of the Trump News Network's future viewership.