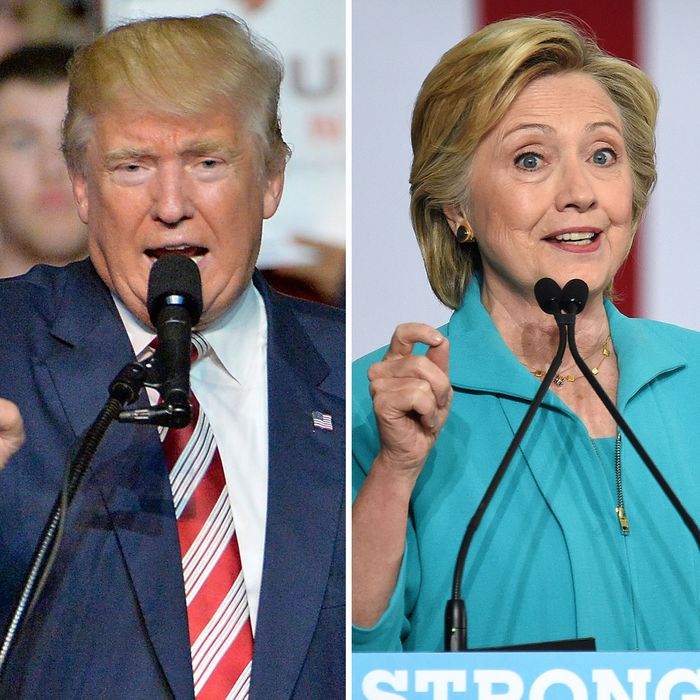 Just hours ahead of tonight's first debate, the race between Hillary Clinton and Donald Trump is by any measurement close. In the national polls, Clinton led Trump in the RealClearPolitics average of recent four-way trial heats that include the Libertarian and Green candidate by 1.5 percent. Her lead in two-way polls is at 2.1 percent, which could indicate a slight thumb on the scale for Clinton if the minor-party vote declines going down the stretch. There's not much of a discernible recent trend; a slightly larger Clinton lead in a few polls conducted just over a week ago has vanished in the very latest national surveys, from Bloomberg (Trump up two among likely voters), Quinnipiac (Clinton up one among LVs), and ABC/Washington Post (Clinton up two among LVs). Clinton's current national lead, however, is marginally more robust if the most reliable type of polls — live-interview surveys — are all you consider.
In battleground-state polling (which typically lags behind national polls in trends), a similar tightening is evident. Clinton continues to lead in states that together would give her a narrow Electoral College majority. But Trump is consistently leading in polls of Iowa and Ohio, while Florida and North Carolina are dead even, and Trump is enjoying a mini-surge (still trailing, but not by nearly as much) in two states thought to have been taken off the table earlier, Colorado and Virginia. Clinton's lead has also declined in her chief firewall state, Pennsylvania. Wisconsin's a bit too close for comfort for Democrats, and at least one recent poll shows New Hampshire nearly even. All in all, it adds up to a narrow but hardly unassailable Clinton lead.
The situation is reasonably similar to the state of the race going into the first debate in 2012. On October 3, 2012, Barack Obama led Mitt Romney by 3.1 percent in the RCP national polling averages. His lead evaporated temporarily after Romney's "win" in the first debate.
Aside from the fact that Hillary Clinton is not likely to reproduce the kind of listless, I-don't-want-to-be-here debate performance that Barack Obama turned in at this point four years ago, the relatively large undecided/minor-party vote, compounded by historically poor approval ratios for both major-party candidates, is the big 2016 difference. Trump's vote in four-party national polls has now crept up into the low 40s, enough (in theory) to win if the Johnson/Stein vote stays at current levels, despite his deeply underwater approval ratios. If the debate convinces minor-party voters they cannot stay on the major-party sidelines, and in general reduces the number of marginal voters who might stay home, we could very soon see a shake-up in the race and a new normal that could persist until November 8. If the race breaks in Clinton's direction in the next week or so, her advantages in paid media and field operations could give her the kind of boost that only a really bad future debate performance or some external event could counteract.
If Trump "wins" tonight, all bets are off, though it remains to be seen if the no-kidding, serious prospect of a President Trump helps Clinton mobilize her potential vote — particularly among younger voters who haven't taken that possibility seriously — to the maximum.