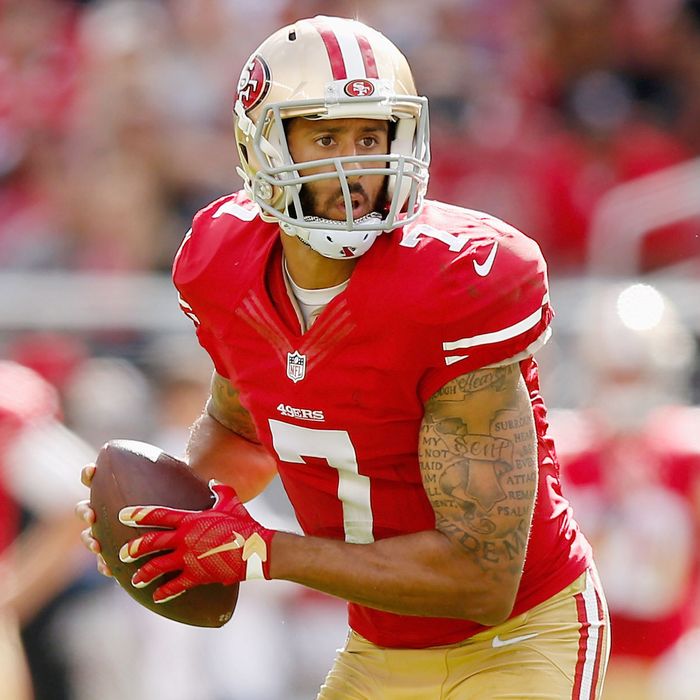 Photo: Ezra Shaw/Getty Images
Colin Kaepernick, a backup quarterback who played in nine games last season and was responsible for more turnovers than touchdowns, has the top-selling jersey in the NFL as of Tuesday. Of course, that has very little to do with his on-the-field performance. Kaepernick's refusal to stand for the national anthem in a preseason game two weeks ago and his subsequent statements against police brutality and racial injustice have turned wearing his jersey into a political statement.
That's a point that may be best made by this tweet:
Before Kaepernick took a stand by refusing to stand, his jersey was only the sixth most popular on his own team.
Meanwhile, Kaepernick has vowed to continue his protest into the regular season, although the precise method has evolved over the weeks. Last week, in the 49ers final preseason game, Kaepernick kneeled during the national anthem instead of sitting. That decision came after a meeting with NFL free agent and former Army Green Beret Nate Boyer, and was meant to show respect to the American military.
After that game, Kaepernick also pledged the first million dollars of his $11.9 million salary this season to "different organizations to help these communities and help these people."
The 49ers open their regular season on Monday, September 12, against the Rams in Santa Clara. Even though he's officially the second-string quarterback, Kaepernick is already the focus of the game. Local police have threatened to not work security at Levi's Stadium unless the team does something to punish Kaepernick.
So far, a few other athletes have joined Kaepernick's protest. His teammate Eric Reid and Seahawks cornerback Jeremy Lane are the only other NFL players to sit out the anthem. United States women's national soccer team star Megan Rapinoe took a knee during the anthem at her latest NWSL game in a "nod" to Kaepernick.
As the NFL opens its regular season this weekend, other players will have a chance to join the protest. Although, considering Kaepernick has already been branded a "traitor" by one NFL general manager, there might not be many guys willing to sit down for what they believe.