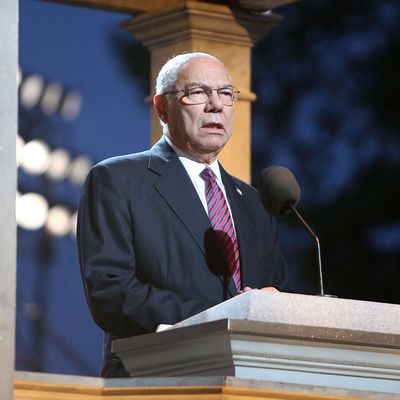 Photo: Paul Morigi/Getty Images for Capitol Concert
Donald Trump is a "national disgrace," Hillary Clinton constantly "screws up with hubris," and Bill Clinton is out there "dicking bimbos" — all this according to the leaked personal emails of former secretary of State Colin Powell. The website DC Leaks, which may have ties to Russian intelligence, obtained the emails from Powell's personal Gmail account and posted them on a password-protected site. An aide of Powell's has confirmed that the emails are his.
BuzzFeed first reported on the emails and highlighted Powell's comments about Trump, whom he calls an "international pariah." He also seems confident that Trump will self-destruct. On June 17, he wrote to a former aide that Trump is "in the process of destroying himself, no need for Dems to attack him."
Powell wrote in another email that Trump's attempts to win over black voters is a "schizo fantasy" because of "what he tried to do to Obama with his search for the birth certificate." He added that "the whole birther movement was racist."
Don't take that to mean Powell is a die-hard Hillary Clinton fan. His emails show that he grew increasingly frustrated with Clinton's attempt to bring him into the scandal over her private email server. "HRC could have killed this two years ago by merely telling everyone honestly what she had done and not tie me to it," he wrote in an August email.
Despite his attempts to fight off what he calls "Hillary's mafia," Powell still seemed likely to endorse the former First Lady for president. In late July, former New Jersey governor Christie Whitman sent him an email asking if he'd endorsed Clinton yet. Powell replied, "You'll recall that in 2008 and 2012 I waited until early fall," according to the Daily Caller.

Not all of Powell's criticisms were directed at the candidates for president, though. In a 2014 email he mentioned that Bill Clinton is "still dicking bimbos at home." And in a 2015 email he called former vice-president Dick Cheney and his daughter Liz "idiots."