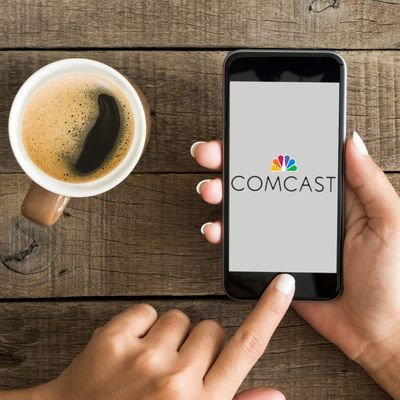 Photo: Blackzheep/Getty Images/iStockphoto
Love being a Comcast customer? Want to really deepen that relationship? You'll soon be able to, thanks to its plan to launch a mobile-virtual-network-operator (MVNO) cell service in conjunction with Verizon.
The service, as yet unnamed, will debut sometime in mid-2017, and was announced at the Goldman Sachs Communacopia conference in New York this morning. Customers would have access to all Comcast's Wi-Fi hotspots — including hopping on Comcast customers' home Wi-Fi connections, thanks to new routers Comcast has been installing in homes that allow them to act as both a home Wi-Fi network and a public hotspot. When not on Wi-Fi, customers would use Verizon's national network.
MVNOs have become more popular recently, thanks to efforts like Project Fi and Republic Wireless, which lean heavily on Wi-Fi when possible, and switch between carriers when not on Wi-Fi for cell and data signals. Both distinguish themselves by being remarkably cheap — Republic Wireless plans start at $15 per month, and my Project Fi bill is about $40 per month. In addition, Republic Wireless and especially Project Fi have great customer service — I can get an actual human being on the phone almost instantly on Project Fi.
Neither Comcast nor Verizon is known for being either particularly cheap or particularly good at customer service (though Comcast did recently break its 13-year-long streak of being the worst- or second-worst-ranked company when it comes to customer satisfaction). It will be interesting to see how Comcast positions its new service. It could be simplicity: Why pay two bills for internet and cable and another for cell-phone service when it could all be wrapped up in one? Or it could be more luxe version of most MVNOs — Verizon still has the largest coverage area, and access to all Comcast hotspots is attractive; in cities where Comcast is the largest provider, you'd rarely be far from a hotspot.
It's also unclear whether this service would be available nationwide, or only in cities where Comcast is available. Would New Yorkers, where Time Warner Cable (er, Charter Communications) is the dominant provider of internet and cable service, even have a chance to try out Comcast's wireless plan?
Still, while there's a lot of unknowns, it does show that MVNOs are picking up steam. And every new entrant into the space means more competition for traditional cell carriers — which ultimately benefits cell-phone users.