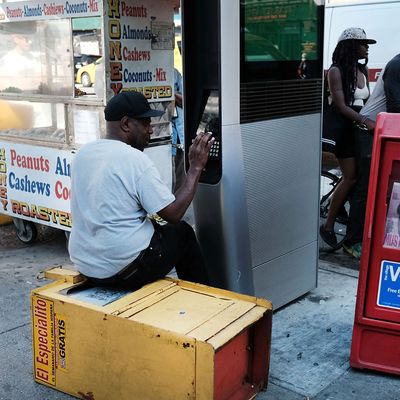 Photo: Spencer Platt/Getty Images
New York City officially launched its free Wi-Fi kiosks in February with a big rollout. Called LinkNYC, these ten-foot-tall internet hotspots offered high-speed wireless-internet connection, charging ports, a touch screen to browse the internet, and they could — like those things called pay phones the Links were intended to replace — also make telephone calls.
Now, the operators of LinkNYC are planning to disable the internet browsers built into the kiosks after complaints from residents and business owners that people are (literally) camping out in front of the machines for hours and taking advantage of the free service to allegedly do such things as listen to really loud music, watch movies, drink, make drug deals, view porn, and, ah, other things. LinkNYC responded and made some adjustments over the summer, including updating the software to lower the volume on the kiosk's non-emergency features, but apparently complaints continued.
LinkNYC will turn off kiosk internet-browsing by Friday, while the company works "with the City and community to explore potential solutions, like time limits." LinkNYC acknowledged in a statement that some people have been "monopolizing the Link tablets and using them inappropriately, preventing others from being able to use them while frustrating the residents and businesses around them."
Roughly 400 LinkNYC hubs have been installed in three boroughs, with the majority in Manhattan. (The Bronx started getting them in August, and there's a smattering in Queens.) The city plans to put in 4,500 of the kiosks by mid-2019, with the goal of reaching 7,500 in roughly eight years. This issue with the internet browser won't affect the installation schedule, a spokesman for LinkNYC told Daily Intelligencer.
And just the internet browsing is getting the kibosh for now, so the kiosks will still have free working Wi-Fi, charging ports, and all its other features. A spokesperson for Mayor Bill de Blasio, who heralded the kiosks as a way to connect all New Yorkers to internet service, said the move is addressing the "quality-of-life complaints head-on."