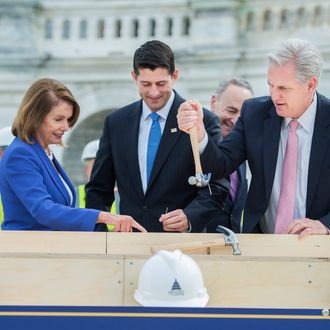 This was more complicated than it needed to be.
Photo: Tom Williams/CQ-Roll Call,Inc.
The House passed a spending bill that will avert a government shutdown, and, in a small sign of progress, they did not wait until the Friday deadline to do it.

Members of Congress are heading back to their home districts early after the bill passed 342 to 85 in the House on Wednesday evening, hours after clearing the Senate by a vote of 77 to 21. President Obama is expected to sign the legislation, which will keep the government funded through December 9.

Members of Congress have been squabbling over the bill for weeks, but there was a breakthrough on Tuesday night when House Speaker Paul Ryan and Minority Leader Nancy Pelosi announced that they'd reached a deal to provide funding for the Flint, Michigan water crisis. Democrats were pushing to include funding for Flint in the stopgap spending measure, but agreed to include it as an amendment to a pending water resources bill instead. That legislation advanced on Wednesday, but the $170 million in Flint relief won't be finalized until Congress is back in session after the November 8 election.

"I am convinced that there is going to be help for Flint in the lame duck," Senate Minority Leader Harry Reid said on the Senate floor. "They've been waiting for help, they deserve help, and I am very happy it is going to come."
The 10-week spending bill includes funding for veterans' programs, $1.1 billion to combat the Zika virus, and $500 million in emergency flood relief for Louisiana and other states.
Speaker Ryan said Wednesday morning that the agreement is proof that Republicans are making good on their promise for a "low-drama" budget season. "We decided we don't want to create brinksmanship, that doesn't do anybody any good," Ryan said. Who knows, maybe in December they'll resolve their budget dispute with a whole 72 hours to spare.