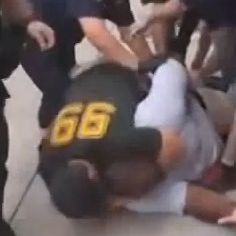 The cop who was filmed putting Eric Garner in a fatal choke hold has been doing pretty well for himself recently. In the two years since Daniel Pantaleo was placed on desk duty over his role in the incident, the NYPD officer has earned significantly more money than he did prior to the incident.
Politico reports that during the 2014 fiscal year, before Garner died, Pantaleo made $99,915, including $17,189 in overtime pay. He appears to have gotten some kind of raise in 2015: "In that 12-month period, ending June 30, 2015, Pantaleo earned $105,061, with $76,488 base pay, $17,109 in overtime and $11,673 in additional earnings, records show." It was even better in 2016:
Pantaleo earned $119,996 in fiscal year 2016, which includes earnings between July 1, 2015 and June 30, 2016. His base pay was $78,026 and he earned $23,220 in overtime, according to a review of payroll records. He received an additional $12,853 in unspecified pay, which could include retroactive pay or bonuses.
As Politico notes, that's a 14 percent increase in overall compensation — and a 35 percent increase in overtime — compared to 2015.
When asked about the upward trend in Pantaleo's earnings, an NYPD spokesperson said only, "At times, officers are required to work beyond their scheduled tour of duty. This includes officers on modified assignment." Pantaleo avoided criminal charges in Garner's death, setting off widespread protests. He remains the subject of a federal civil-rights investigation.