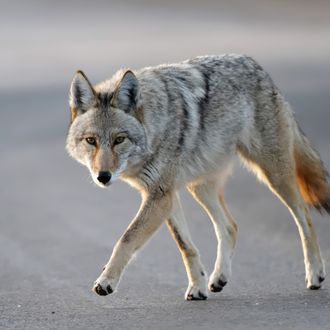 Not the coyote in question.
Photo: David C Stephens/Getty Images
A North Stamford, Connecticut, girl has the best excuse for getting her parents to drive her to school every day: She says three coyotes followed — and one almost attacked — her on her way home from the bus stop after school this week.
The 12-year-old girl, Navya Sharma, told the Stamford Advocate she saw the pack of three coyotes quietly trotting along in the woods, matching her pace as she took her route home from the bus stop. She kept calm, but then, Sharma says, one broke free and came after her. "It had that look in his eyes that it doesn't like me," Sharma told the Advocate. "He was like 10 feet away from me. He was faster than I thought. I didn't know what could happen. I didn't know why it wanted to attack me, if it didn't like me or it was starving or it felt in danger."
"I saw his teeth," she added. "I ran." Sharma made it to her driveway safely, and has since studied up on coyote-defense tactics (making loud noises, etc.) in case she encounters them again.
But Stamford has been having a problem with these predators lately, and officials are considering bringing in a trapper. The sighting of a very mangy-looking coyote forced elementary-school kids indoors last week, and the animals have been blamed for the recent disappearance of a beloved miniature poodle.
The New York area's great coyote (well, coywolf) invasion appeared imminent last year, especially in the city, with reports of coyotes napping in backyards and unwinding at neighborhood bars. This August, workers have spotted a pack in an industrial park in Astoria, which would be a first for Queens, as the borough's previous coyote resident was a rebel loner who lived in Railroad Park, near the LIRR tracks in Jamaica. That coyote family apparently has five pups (though people had seen eight siblings at first, so three likely died) and three adults: the mom, dad, and, this being New York, the nanny. The pack keeps stalking the area near La Guardia Airport, which, honestly, they can have.