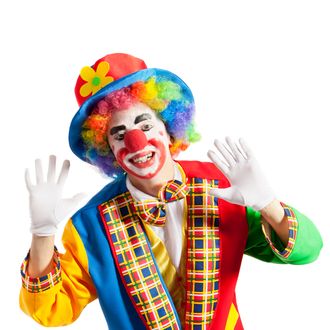 It turns out the world can get scarier.
Photo: Alexey Avdeev/Getty Images
Two people in Georgia — a 26-year-old man and his 27-year-old sister-in-law — landed themselves in jail on Thursday for allegedly calling 9-1-1 and making false claims that they had seen two clowns trying to lure children into a white van.
Normally, a stay in jail might sound too strict for an obvious, if misguided, prank call. But these are not normal times.
Reports of creepy clown sightings — often at the edge of the woods, and almost always trying to lure children into the forest with promises of cash or candy — have spread throughout the nation, driving citizens to arm themselves and leaving police departments baffled.
Over the summer, police stations in six states — South Carolina, North Carolina, Ohio, Florida, Wisconsin, and now Georgia — received dozens of calls reporting what the internet is calling "creepy clowns."
On September 9, in Dublin, Georgia, someone blamed a car crash on the driver swerving to avoid a clown (police believe speed and alcohol played a role). On Thursday morning, multiple schools in Escambia County, Alabama, were put on lockdown after an elementary school received a suspicious call related to "Flomo Klowns." A disturbing Facebook page for the group said they're from Flomaton, Alabama, and "kill people for a living."
Georgia has been especially hard hit over the past week.

Though the call on Thursday turned out to be a prank, officers are taking seriously another incident earlier in the week in which two children waiting for the school bus fled in fear of their lives after seeing a man dressed in black and wearing a clown mask. Elsewhere in the state, there have been multiple reports of clowns chasing children, with adult witnesses on-hand to corroborate on at least a few occasions.
Unsurprisingly, some are taking advantage of the situation. Police in Pensacola, Florida, said on Thursday that they've received reports of clowns scaring people for entertainment. Earlier in the week, a Pensacola woman posted a creepy Facebook video showing a clown standing at the edge of the woods, but she revealed in the comments that it was a hoax.
The "creepy clowns" have had one confirmed victim: actual clowns. Clown performers in states where sightings have taken place fear they could be hurt if spotted in uniform, and the BBC reports that one clown in Georgia even keeps police abreast of his movements to avoid a potentially dangerous misunderstanding.
One widely held theory was that the clowns were all part of a viral marketing campaign for Rob Zombie's upcoming film 31, in which a band of carnival workers are held hostage by murderous clowns.
Unfortunately for anyone who likes to know where their creepy clowns are coming from, Saban Films, the company behind 31, released a statement earlier this month, saying, "The company and the film 31 are not associated in any way with the creepy clowns and costumed characters found roaming the South."