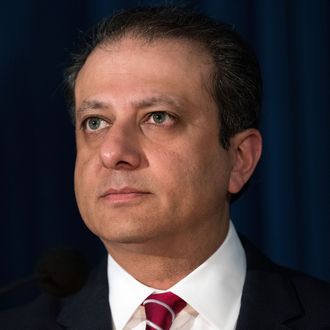 Bharara.
Photo: Drew Angerer/Getty Images
A total of nine people, including two former top aides to Governor Andrew Cuomo, are facing federal corruption charges, reports the New York Times. On Thursday, U.S. Attorney Preet Bharara, perpetual thorn in Albany's side, formally announced the charges, which stem from two corruption schemes between state officials and private companies that had millions of dollars worth of business before New York state, including those awarded contracts under the "Buffalo Billion" program — one of the governor's key initiatives meant to draw businesses to upstate New York to revive the flagging economy.
This case, Bharara said, showed "another sordid side of the show-me-the-money culture that has so plagued Albany."
He added: "It turns out the state legislature does not have any monopoly on crass corruption in New York."
Two close Cuomo associates are at the center of these pay-to-play allegations, say federal prosecutors. Joseph Percoco, the former deputy executive secretary to the governor, has had long-standing ties to the political family. According to WABC 7, Andrew Cuomo once said Percoco was like "my father's [former governor, Mario Cuomo] third son, who sometimes I think he loved the most." The other is Todd Howe, who worked for the father during his governorship, and for the son during his tenure as Housing and Urban Development secretary. Howe, who was a lobbyist who also worked as an adviser to state officials on development projects, has reportedly pleaded guilty to charges of bribery, extortion, and wire fraud, and is cooperating with authorities. Federal prosecutors say Howe was involved in both schemes.
Percoco is at the center of the first investigation. According to the New York Times, Percoco is charged with taking more than $320,000 in kickbacks from two companies that had business before the state. That cash allegedly bought "official actions" that favored those two firms: COR Development, a real-estate-development firm that was awarded several state contracts, and Competitive Power Ventures Holdings LLC, an electric-power company that needed state approval to build a power plant in the Hudson Valley. Both of those companies were Todd Howe's clients, who had been allegedly hired to help them in their dealings with the state.
Executives at those companies are named in the complaint, including Peter Galbraith Kelly Jr., an executive at Competitive Power Ventures, who oversaw lobbying and public relations for the firm; and Steve Aiello and Joseph Gerardi, the president and and general counsel, respectively, at COR Development.
Howe allegedly facilitated the kickbacks between Percoco and executives at the firms. Two called the bribes "ziti," a code for money, ripped from The Sopranos. Bharara described Percoco as "persistent" in demanding cash.
Kelly, with Competitive Power Ventures, helped deliver approximately $287,000 to Percoco starting in 2010, plus other perks like a Hamptons trip. Kelly also created a position at the firm for Percoco's wife — who was not listed in the complaint. The job paid her a salary of approximately $90,000 per year, though she never did more than 25 hours of work per month, and sometimes worked as little as two or three hours, according to Bharara. In return, Percoco "repeatedly" found ways to assist Competitive Power Ventures, including an agreement with the state involving that power plant, which allegedly saved the company about $100 million in development costs.
Percoco also took about $35,000 in kickbacks from COR Development, a major player in Syracuse, for what amounted to on-call assistance in the company's official business with New York state. Percoco's favors included freeing up millions in state funds for the Syracuse developer and helping to get a raise for Aiello's son, who worked in the governor's office.
So that's corruption scheme Number 1. The second involves a little fraud, extortion, and bribery at the signature economic program, Buffalo Billion, with some of the same cast of characters. "State contracts worth nearly a billion dollars meant to revitalize and renew upstate New York were instead just another way … to reward cronies willing to pay to play," Bharara said. This scheme also involves Howe, and Dr. Alain Kaloyeros, the head of the State University of New York Polytechnic Institute, which helped administer many of the Buffalo Billion program's contracts. (Kaloyeros, a physicist, is reportedly the state's highest-paid employee.) Howe, despite being a lobbyist, advised Kaloyeros, helping him pick developers for Buffalo Billion programs.
Kaloyeros and Howe are accused of conspiring together to make it seem that developers were competing through "a fair and open bidding process, "but behind the scenes they were rigging the whole process go to handpicked friends of the administration," Bharara said. Adding, that's "a euphemism for large donors."
Aiello and Gerardi, of the Syracuse development firm that was also paying Percoco under the table, also threw a little cash Howe's way to get favorable treatment in the contract-bidding process. Three other defendants were also named: Louis Ciminelli, a Buffalo developer who's in charge of a solar-panel factory to be built in that city; and Michael Laipple and Kevin Schuler, executives for Ciminelli's firm.
Those developers were allegedly allowed to draft RFPs (request for proposals — the official pitch for those competing for state projects) themselves, thereby handpicking exactly which qualifications "the state" required, which, wouldn't you know, always happened to fit those firm's qualifications. In an email exchange between Howe, Aiello, and Gerardi about an RFP, Gerardi scanned a copy of a draft document with handwritten notes in the margins, asking "was that too telegraphed? I would leave out these specific programs." According to the criminal complaint, investigators believe they were worried that it was becoming too obvious they were jiggering the bidding process.
All defendants, except Howe — who pleaded guilty Tuesday — were taken into custody Thursday morning. "These charges are just allegations," Bharara said Thursday, "guilt [is] to be determined or not, at trial. I will tell you, I really do hope that there is a trial in this case so all New Yorkers can see, in gory detail, what their state government has been up to."
Governor Cuomo is not named in the corruption scheme, but these charges are an enormous blow to one of his major economic programs, and to his political allies. Cuomo responded to the allegations against his former aides, saying "I have zero tolerance of abuse of public trust from anyone."
What is clear is that some of the defendants were large donors to the governor, and that was known to Howe and Percoco. To pull a few examples from the complaint: In May 2011, Howe emailed Aiello, saying "you should hold on making any political $$ contributions to any state federal electeds, so we can make sure you can [get] the most leverage out of them." And in November 2013, Ciminelli — whose firm was being considered for a state contract at the time — hosted a fundraising dinner for Governor Cuomo, which raised 250,000.
Cuomo has made a point of cutting ties with both Howe and Percoco, and also ordered an independent review of the Buffalo Billion program after investigators allegedly subpoenaed his office this April. When Bharara was asked if he could give the governor a "clean bill of health," the prosecutor replied: "There are no allegations of wrongdoing or misconduct by the governor in this complaint. That's all I'm going to say."
This post has been updated with new details from Bharara's press conference and the criminal complaint.