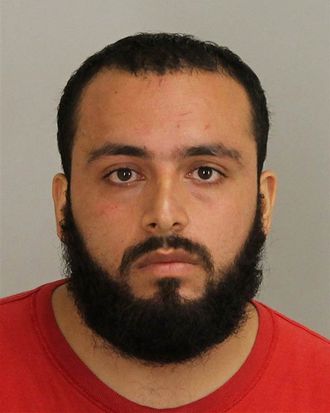 Ahmad Khan Rahami.
Photo: Union County Prosecutor's Office
It's been less than 24 hours since police apprehended bombing suspect Ahmad Khan Rahami after a shoot-out on the streets of Linden, New Jersey. He has been charged with multiple counts of attempted murder in New Jersey for the gun battle, in addition to weapons charges. Federal prosecutors are reportedly drawing up charges relating to the IEDs in Chelsea and New Jersey.
Officials said that Rahami was not on any federal terror watch list. But two years ago, the suspect's father, Mohammad Rahami, reportedly told the FBI that his son was a terrorist, according to the New York Times. The elder Rahami made the statement to local police, after Ahmad Rahami allegedly tried to stab one of his siblings, a domestic dispute that the family later retracted. Per the Times:

The information was passed to the Joint Terrorism Task Force led by the Federal Bureau of Investigation in Newark. Officers opened what is known as an assessment, the most basic of F.B.I. investigations, and interviewed the father, who then recanted.
It is unclear if the FBI ever interviewed Ahmad Rahami directly. "Two years ago I go to the F.B.I. because my son was doing really bad, O.K.?" Mohammad Rahami told the Times on Tuesday. "But they check almost two months, they say, 'He's O.K., he's clean, he's not a terrorist.' I say O.K."
"Now they say he is a terrorist," Rahami also said, apparently referring to the FBI. "I say O.K."
Outside the Rahami apartment and First American Fried Chicken, the restaurant the father owns, Mohammad also shouted at reporters, "I called the FBI two years ago!" But his statements were muddled; he said afterward that he did not believe his son was a terrorist. On Monday, after the FBI raid of the family's apartment and the capture of his son, Mohammed Rahami told NBC News that he had "no idea" what his son was doing. "I'm not sure what's going on," he said.
Officials say they have also uncovered Rahami's writings, which hint at his radicalization. A handwritten letter and a notebook that was found on his person are rambling and incoherent, but make reference to Muslims being killed and mention notorious terrorists, including Osama bin Laden and Anwar al-Awlaki, an American-Yemeni Al Qaeda cleric who was killed by a U.S. drone strike in 2011. Rahami also wrote about the 2009 shooting at Fort Hood and the Boston Marathon bombers, who deployed pressure-cooker bombs — similar to what Rahami used on the Chelsea sidewalk — at the finish line of that race.
Those missives are bringing a picture of Rahami, and his potential motivation, into focus: A 28-year-old naturalized United States citizen who worked at his family's fried-chicken joint with his siblings, Rahami came to the United States from Afghanistan at age 7, went to high school in New Jersey, and started, but never completed, an associate's degree in criminal justice. Rahami played pickup basketball in the neighborhood, hosted rap battles, and souped up cars in his spare time. Then, his friends say, he took trips to Afghanistan, and they noticed changes — he grew a long beard, wore traditional Muslim garb. Officials say Rahami also traveled to Pakistan, once for three months in 2011, and again for nearly a year in 2014. He reportedly stayed in Quetta, a Taliban stronghold, with relatives. (The Taliban has denied any involvement with the bombings, says CNN.)
Rahami was married during one of his trips to Pakistan. He had tried to get his wife to come from Pakistan to the United States in 2014, according to Congressman Albio Sires, who said Rahami contacted his office saying his wife was having trouble with her visa. The wife, who has not been identified yet, was reportedly pregnant at the time, and immigration officials had said she couldn't come until she had the baby, who also needed a visa. Officials now say the woman had been in the United States and departed just days before the explosions on a race route in Seaside Park, New Jersey, and on a busy street in Chelsea, Manhattan. Authorities are working with officials in Pakistan and the United Arab Emirates to try to track her down. Rahami's mother, Najiba Rahami, reportedly left for Turkey three weeks ago and is allegedly still overseas. An older brother, Mohammad, is believed to currently be in Afghanistan.
Officials have said they are not ruling out potential accomplices in the bombings, but they do not believe Rahami was part of a larger terror cell. They are not searching for any specific suspects right now. NYPD commissioner James O'Neill spoke to CBS This Morning on Tuesday, saying the fact that cops found Rahami sleeping in a doorway alone was a "good sign." "Hopefully that means he had nowhere to go," O'Neill said.
As of Monday night, Rahami was in critical but stable condition in the hospital after suffering multiple gunshot wounds. Some reports say he's refusing to talk to authorities, but others say he's not yet able to because of his condition — though it seems likely that he will survive his injuries to face charges for attempted murder in court, possibly as early as next week.
This post has been updated with new quotes from Mohammad Rahami.