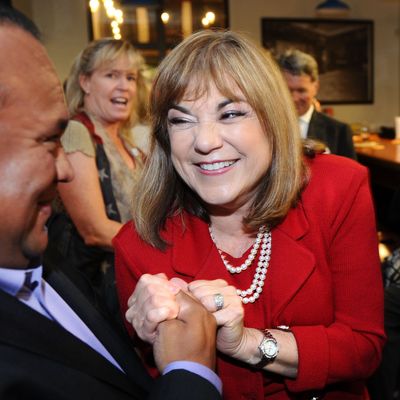 Twenty-year Democratic House veteran Loretta Sanchez shaking some unusual hands these days.
Photo: Wally Skalij/Los Angeles Times
Democratic U.S. representative Loretta Sanchez is nobody's idea of a California lefty. She was a charter member of the centrist New Democrat Coalition in the House, and is also one of the 14 surviving members of the once-robust Blue Dogs. Her voting record is notably to the right of the one compiled by her sister and House colleague, Linda.
On the other hand, she's been a regular Democrat with conventional loyalties throughout her two decades in the House. She regularly receives 100 percent ratings from NARAL and Planned Parenthood, and has a lifetime 95 percent rating from the AFC-CIO. She's always been considered part of the "Clinton wing" of the Democratic Party, and endorsed Hillary Clinton for president earlier this year. Veteran Democratic political consultant Bill Carrick is running her current campaign for the U.S. Senate.
So all that makes her current energetic efforts to get Republican support for said Senate bid a mite awkward. But she doesn't have much choice. California's top-two primary system has matched her against a fellow Democrat, attorney general Kamala Harris, in the general election. Harris finished first in the primary with 40 percent of the vote, more than doubling Sanchez's totals, but Sanchez won a spot on the November ballot by easily beating three Republicans who divided the GOP vote. Harris was subsequently endorsed not only by the California Democratic Party, but by President Obama and Governor Jerry Brown. A recent USC/L.A. Times poll showed Sanchez trailing Harris 30 percent to 16 percent, with three-fourths of self-identified Republicans declaring themselves either undecided or unwilling to vote for either of the surviving Democrats. So Sanchez needs these votes and needs some help getting them.
She's certainly accepting support from some odds quarters, reports the Los Angeles Times:
The Democratic congresswoman popped up on a conservative talk radio show in San Diego to tout her record against "Islamic extremists." She ventured to Shasta Lake, Northern California's Republican frontier populated by farmers and ranchers, and promised to listen to all sides to address the state's water crisis. And on Thursday, Sanchez will chat with U.S. Marines at Camp Pendleton, where she will be joined by Vista Republican Rep. Darrell Issa, who once called President Obama "one of the most corrupt presidents in modern times."
She was earlier endorsed two other prominent Republicans: former Los Angeles Mayor Richard Riordan and U.S. representative Buck McKeon. Perhaps the most surprising endorsement was from talk radio host Hugh Hewitt, who took time off from his crusade to talk conservatives into supporting Donald Trump to give a nod to his "old friend" Sanchez.
Without question, she's got her rap down for potential Republican supporters:
I think when people take a look at me on the issues, they will realize I have the courage to confront and speak out against the threat of Islamic extremists. I have a common-sense approach to gun control that respects the basic human right of self defense — Second Amendment rights. I'm strong on veterans' issues, I'm strong on national defense, on counterterrorism, on homeland security.
Probably the biggest question is whether Republican-aligned business groups decide it's worth the trouble to raise Sanchez some serious money to complete with the well-financed Harris. If they do and she keeps angling for Republican support, you can expect the race to get a lot more sharp-elbowed, with Democrats going after Sanchez as a turncoat. It's a natural byproduct of the top-two system, which awards cross-partisan appeals but also guarantees some bad intraparty tensions.