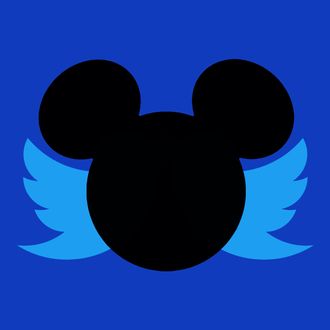 Photo-Illustration: Disney, Twitter
This afternoon, Bloomberg is reporting that Disney is joining the growing list of companies that might acquire Twitter. The company is apparently "working with a financial adviser to evaluate a possible bid for Twitter." That's vague, but it's still interesting: What on earth would Disney, a huge multinational entertainment conglomerate, want with Twitter, a large but struggling social-media platform?
The most obvious answer is: streaming video. Twitter is making a heavy push into live events — sports in particular. It's a nascent, futuristic business strategy that doesn't entirely cannibalize the old television business, and it makes sense that Disney, which owns ESPN, would want to at least kick the tires.
But, well, what is the promise of Twitter's streaming video, anyway? The idea is appealing — live video and commentary, in one — but it's totally unclear whether it will ever be able to attract a large-enough audience to interest advertisers (two million people watched Twitter's first Thursday-night football-game stream; by contrast, nearly 50 million people watched on regular network TV).
Disney properties, on the other hand, are some of the most highly prized pieces of entertainment in the streaming economy. It already owns ABC and ESPN. Outside of sports, Netflix pays millions of dollars for exclusive streaming rights, which requires almost no technical effort on Disney's part. Twitter's expansive data-mining operation is certainly of interest to a company of Disney's size, but at what price? Purchasing Twitter would cost Disney more than its acquisitions of Pixar ($7.4 billion), Marvel ($4.2 billion), and Lucasfilm ($4 billion) combined.
On top of all that, Disney has a history with software that can charitably be described as erratic. A handful of times over the past decade, they have ramped up and abruptly shut down their video-game development and publishing operations. The most recent iteration resulted in the sudden shutdown of Disney Infinity, which was, by their own account, profitable but not profitable enough. They have a bad history of committing to maintaining services and products post-launch.
So, no, Disney almost certainly isn't going to buy Twitter. But it's in both companies' best interests to seem like it might. Disney's in the midst of a protracted courtship with Vice, and it's possible that a feint at Twitter might make Vice more anxious to lower its reported $5 billion asking price. At the same time, Twitter's looking to get bought by, well … anyone. Having Disney pretend that its streaming business represents a profitable future could help assuage some of its other suitors (which reportedly include Google, Microsoft, and Salesforce). Eventually, Twitter will get bought. But it won't be by Disney.