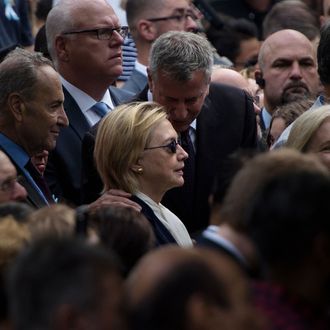 Photo: Brendan Smialowski/AFP/Getty Images
Dr. Bennet Omalu, the forensic pathologist who discovered the head injury chronic traumatic encephalopathy in football players and was played by Will Smith in the movie Concussion, made his name going up against the NFL and Roger Goodell. So he's familiar with the tactics of tyrants. Now he's combined that knowledge with this medical expertise to offer up the most outlandish possible explanation for Hillary Clinton's recent illness: Maybe Donald Trump and Vladimir Putin poisoned her.
Omalu, it should be noted, is a Clinton supporter who will be voting for the Democratic nominee because she reminds him of his mother.