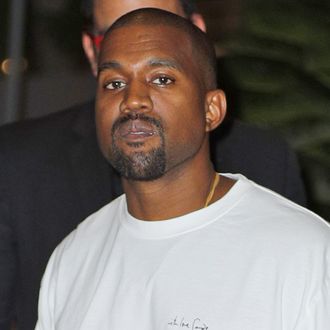 Photo: Jackson Lee/Splash News
This past weekend, rapper and fashion designer Kanye West made the mistake of leaving his phone unlocked. Never one to miss the small details, the British tabloid Daily Mail devoted an entire article to bragging about how Kanye uses its app (which makes sense, given how obsessively the Mail covers his wife, Kim Kardashian, and their extended family).
We here at Select All, however, are concerned with loftier things than the news outlets Kanye reads. No, we care about the important things: Which apps does Kanye use?! Here's what we could make out.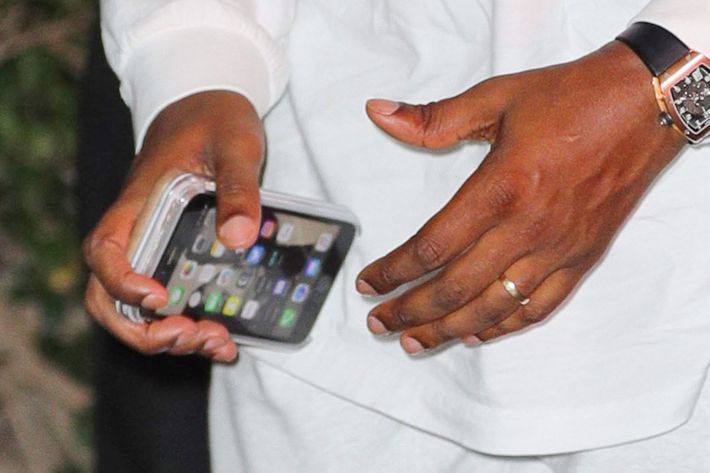 Top row: Messages, Photos, Camera, Settings
Second row: Clock, Calendar, Notes, [blocked by thumb]
Third row: FaceTime, Facebook (?), [blocked by thumb], [blocked by thumb]
Fourth row: Snapchat, Tumblr, Twitter, Instagram
Fifth row: Voice Memos, unknown, unknown, unknwon
Sixth row: unknown, Daily Mail, unknown (blank space?), unknown
Tray: Phone, Safari, Mail, Music
What can we learn? Well, assuming he's actually using those apps, Kanye has secret Snapchat and Tumblr accounts. (He joined Instagram earlier this week.) And while he doesn't have his wife's Kimoji app, it's also worth noting that he's using a LuMee case endorsed by his wife and his wallpaper is a picture of them. That's nice!
Anyway, Kanye should swap out the default apps in his tray for the ones he uses most. That's my advice. It's just more efficient. Oh, my other piece of advice is to download an app called Ham Horn.