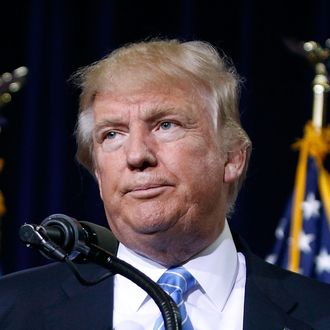 Send help.
Photo: Ralph Freso/Getty Images
In mid-August Donald Trump began toying with the idea of "softening" his stance on immigration, angering many of his supporters — including himself. Finally, in a much anticipated policy speech last Wednesday, he reverted to the hard-line immigration positions that are the foundation of his campaign. Perhaps after the Labor Day reset, his perplexing dalliance with a realistic, humane approach to the issue of illegal immigration would be nothing more than a hazy, summertime memory.

But apparently after getting Trump to do a 360 on immigration in just a few days, his campaign team forgot to tell him to stop. On Monday, the Republican nominee geared up for another round of immigration flip-flopping, telling reporters that he hasn't made a decision on a path to legal status for undocumented immigrants.
Five days ago, Trump said that undocumented immigrants who have committed no other crimes would have "one route and one route only" to legal status: "To return home and apply for reentry like everybody else, under the rules of the new legal immigration system that I have outlined."
However, when reporters asked on Monday if people would really have to "return home" before seeking legal status, Trump said, "We're going to make that decision into the future." According to The Wall Street Journal, when asked what he thinks of fellow Republicans who support offering people a path to legalization without returning to their country of origin, Trump said, "Good question. I'm glad you asked it," adding, "That decision will be made."
Later on Monday, ABC News's David Muir asked Trump if some of the 11 million undocumented immigrants currently in the country would be allowed to stay. "It could be, but what's going to happen is if you're going to be a citizen, you're going to leave and you're going to have to come back," he said.

Muir pressed him to clarify what would happen to those undocumented immigrants who aren't interested in applying for citizenship. "They have to make a determination what happens when the border is secure," Trump said.
"So you're open to them staying here undocumented?" Muir asked.
"I'm going to make a decision, or somebody will. Whether it's me or somebody else, because by that time we'll have a secure border, we'll have a wall," Trump answered.
There's an immigration stance Trump can stick to: Someday, someone will decide whether the U.S. will offer a path to legal status, and that person may or may not be President Trump.