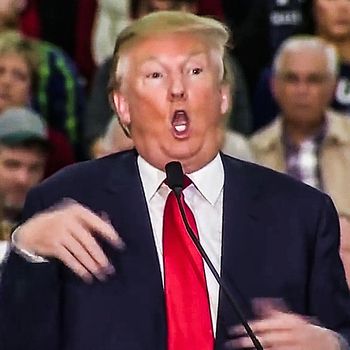 That presidential look.
Photo: Screenshot via CBS
Donald Trump thinks Hillary Clinton's appearance makes her unfit for the presidency.
"I just don't think she has a presidential look and you need a presidential look," the GOP nominee told ABC's David Muir in an interview that aired Tuesday. "You have to get the job done. I think if she went to Mexico she would have had a total failure. We had a big success."

"When you talk about her not looking presidential, are you talking about aesthetics?" Muir asked.
"I'm talking about in general," Trump clarified.
Some see these remarks as a not-so-subtle reference to the height of the woman running to be the first five-foot-six president since Martin Van Buren.
Others have floated the improbable idea that what most distinguishes Hillary Clinton from past presidents is her gender, and that this might inform Trump's reflections on her appearance. But for Trump to argue that women are inherently unqualified for the Oval Office because Mexicans won't take them seriously — at a moment when he desperately needs to improve his standing with female voters — he would have to be both a rank misogynist and total incompetent.
So, we can safely dismiss that interpretation.