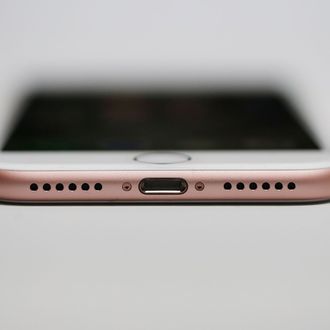 Photo: Stephen Lam/Getty Images
Last week, Apple announced that the company had made the "courageous" decision to remove the three-and-a-half-millimeter headphone jack from the iPhone 7. Tears were shed. War broke out. And people immediately began devising AirPod accessories to prolong those inevitable Damn, can't believe I lost my AirPods moments. This is all fine, and somehow I think we'll manage to adapt in this brave, new headphone-jack-less world. But if you are about to be the proud owner of an iPhone 7, the one thing that definitely won't help is if you try to DIY your own headphone jack with a power drill.
A fun hoax meme is making the rounds online this week informing people that the iPhone 7 actually does contain a headphone jack, but it's buried beneath the phone's exterior casing. The meme offers instructions on how to access the secret jack by drilling a small hole 14-millimeter to the left of the Lightning port.
There is not much to say here other than: Don't do this. Don't do this. Don't do this. No matter how much you drill, you're not going to find a headphone jack. Instead, you'll likely end up ruining your brand-new phone. (Though, if you bought jet black, you probably deserved it).