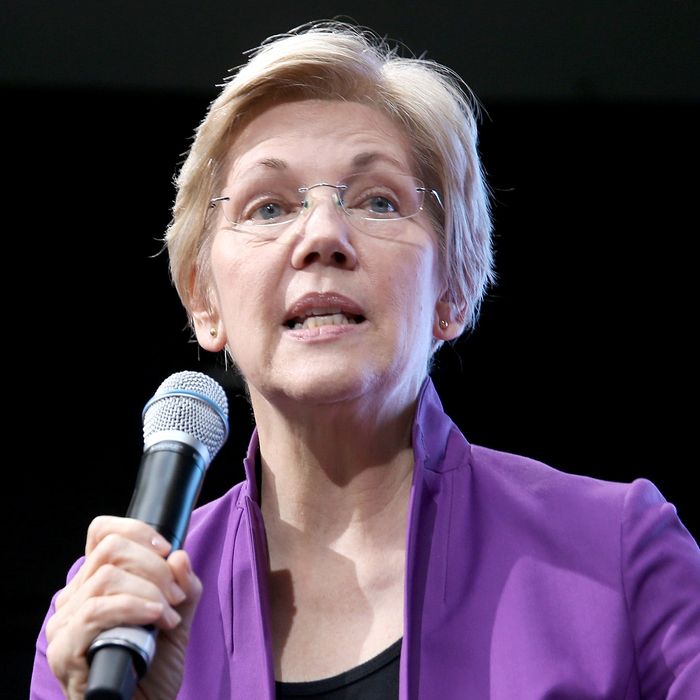 Warrin' Warren.
Photo: Paul Zimmerman/Getty Images
Even if Hillary Clinton wins in a landslide this November, she'll still likely inherit a House controlled by reactionaries who want to impeach her. Policy will be shaped largely by whoever helms the Executive branch's regulatory agencies. In the land of divided government, personnel is policy.
This fact is not lost on Wall Street's least-favorite senator. Elizabeth Warren and her progressive allies are pointing Clinton's transition team toward appointees "with a proven track record of taking on corporate power" — while assembling a "hell no" list of revolving-door types whom Warren would try to block.
Warren and her aides, along with sympathetic left-wing organizations like the Progressive Change Campaign Committee, the Roosevelt Institute, and Public Citizen, are hoping to shape Clinton's staff through a combination of "public clamoring" and "behind-the-scenes conversations," Politico reports.
Those offstage dialogues have already paid dividends. Last month, Clinton named Rohit Chopra, one of Warren's handpicked anti-exploitation crusaders at the Consumer Financial Protection Bureau, and Heather Boushey, an economist who focuses on inequality, to positions on her transition team.
But the Democrats' left wing wants more than just a couple of friends in the next West Wing. The last time a President Clinton entered the Oval Office, he brought economic advisers from both sides of the party — Robert Reich on the left and Robert Rubin on the right. Rubin, the former co-chairman of Goldman Sachs, dominated the internecine squabbles, crafting Clinton's program of market deregulation and deficit reduction. And Rubin's acolytes returned to power in the Obama White House. Among them was Treasury Secretary Timothy Geithner, who stymied efforts to aid underwater homeowners, expressing concerns about the "moral hazard" that an ambitious principal-reduction program would create. (Such concerns did not dominate his thinking about bailing out banks guilty of fraud.) That decision left millions of American homeowners in financial turmoil, thereby sapping much-needed demand from the postcrisis economy.
So, in addition to seats at the table for their ideological fellow travelers, the Warrenites want to keep the "right wing" of the Clinton White House as close to their side as possible. Kurt Walters, a member of the Warren coalition, told Politico that they plan to subject former Wall Street executives — like the Treasury Department's Antonio Weiss and former State Department officials Tom Nides and Robert Hormats — to "a very high degree of skepticism."
The coalition also has a distrustful eye on Gene Sperling, who worked in top economic positions under presidents Obama and Clinton.
As for whom Warren & Co. would like to see in power, Gary Gensler, himself a former Goldman Sachs employee, is high on the list. Currently the Clinton campaign's chief financial officer, Gensler proved himself an aggressive regulator while at the helm of the Commodity Futures Trading Commission, where he worked to overhaul the derivatives market. Among the other names on the progressive coalition's short list are former Democratic senators Byron Dorgan and Ted Kaufman.
When Clinton was still (ostensibly) considering Warren as her running mate, left-wing Democrats argued about whether their champion could more effectively advance their agenda in the Senate or by the president's side. If Warren succeeds in filling the White House with regulators who prefer Paul Krugman to Thomas Friedman, the case for the former will grow stronger: It's a lot easier to shout "hell no" from an independent position of power.