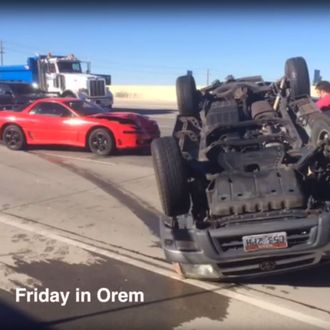 If you take more than five photos or videos with your phone in a 24-hour period, the next time you log into Facebook from your phone, the app will automatically splice those into a slideshow. To help you remember what was obviously an excellent day (after all, why else would you take all those pics?), slideshows are customizable and you can pick background music and decorative themes from a range of chipper options like "Amped," "Epic," and "Thankful."
For Josh Gibson, that last theme is probably the most fitting. Last week after Gibson was in a "near-fatal" car accident in Orem, Utah, he took several photographs of his severely damaged Toyota 4Runner and the other car involved in the crash. Which, of course, the next time he turned on Facebook, Gibson claims he found seamlessly edited together into a short video complete with tiny, animated sparkle effects and uplifting guitar music. Gibson posted the video, which Facebook auto-titled "Friday in Orem," on Reddit, where it found its way to the top spot on /r/videos this morning.
Maybe it's the tiny, animated sparkle effects, but something about this video makes me think Facebook didn't consider that people often take photos of bad memories when rolling out this feature. (It's definitely the tiny, animated sparkle effects.) But hey, it's certainly a day Gibson isn't likely to forget. And in case he does (or he's just feeling nostalgic for what was probably, um, not a particularly great day), he's got a slideshow to help jog his memory.