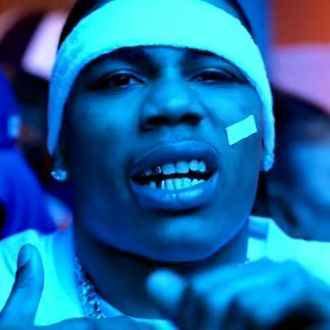 Nelly is in trouble. The rapper known for hits like "Hot in Herre" and "Country Grammar" reportedly owes more than $2.4 million in taxes. Spin did the math on what it would take to earn that much from Spotify:
The Swedish company recently said that the payout for artists "per stream" lands between $0.006 and $0.0084. At the bare minimum, you'll have to stream a Nelly joint 402,880,500 times to make a decent dent on his tax issues. If Nelly's lucky enough to be on the $.0084 end of the royalty spectrum, the best case scenario sees you plugging through 287,176,547 streams.
Let's do some more math. "Hot in Herre" is 3 minutes and 48 seconds long (or 3.8 minutes). So 287,176,547 streams of that track would take 1,091,270,878 minutes and 36 seconds. That's about 2,076 years, arguably too much time for one person to save Nelly themselves.
Luckily, word soon spread that if we all pooled our collective ability to stream music, we might be able to help Nelly out of this bind more quickly. #SaveNelly gained momentum.
Some fans also used the hashtag #HotInHerreStreamingParty.
Nelly has yet to speak out on the intense effort his loyal fans are exerting.