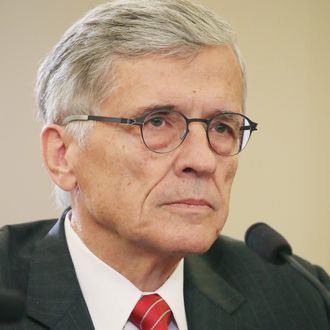 FCC chairman Tom Wheeler.
Photo: Mark Wilson/Getty Images
In the wake of the Chelsea bombing allegedly committed by Ahmad Khan Rahami, the Federal Communications Commission today approved an upgrade to the Wireless Emergency Alert system used following the attack.
"Vague directives in text about where to find more information about a suspect — just as we saw in New York — are not good enough," FCC commissioner Jessica Rosenworcel said.
In its current form, emergency alerts are limited to 90 plain-text characters and nothing else. That partially explains why law enforcement sent out the vague, dangerous emergency alert looking for Rahami on the Monday following the explosion.
The FCC has now approved a proposal made last November (months before the bombing) that increases the WEA system's capabilities, upping the character limit from 90 characters to 360 on 4G networks, and allowing for multimedia and hyperlinks.
The upgraded system will also have better geotargeting for alerts, which is currently so imprecise that the messages blanket entire cities and regions.