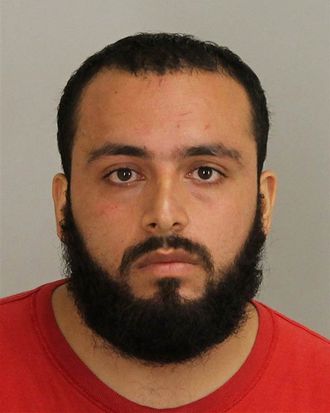 Rahami.
Photo: Union County Prosecutor's Office
His eBay username was "ahmad rahimi," federal officials say. Between about June 20 and August 10, 2016, bombing suspect Ahmad Rahami made purchase after purchase of lawful items that together would become the deadly ingredients to a pressure-cooker bomb that blasted a dumpster down a Chelsea street and injured 31; the pipe bomb that ripped apart a garbage can along a charity-race route in Seaside Park, New Jersey; and the IEDs discarded in a backpack near a train station in Elizabeth, New Jersey.
Those materials were delivered to a business address in Perth Amboy, New Jersey, where Rahami was employed until last week, according to the federal criminal complaint filed against the suspect Tuesday. Among his orders: "200 Hardened Lead Milling Balls .490 in. Ball Mill Tumbling Media Pyrotechnics," "E-match+lOOpcs/lot 11.Blin For Fireworks Firing System Electric Igniters display," and "Citric Acid USP/ Food Grade 5 Lb Pack- Great for bath bombs and candy making." Also, cell phones, ones that investigators believe Rahami turned into timers to set off the improvised explosives.
Federal prosecutors have used that evidence, and other details investigators have gathered, to charge 28-year-old Rahami in two federal courts, in Manhattan and Newark, with nine counts related to the explosions, including use of a weapon of mass destruction and bombing a place of public use.
The criminal complaint provides more details about Rahami's plotting and his apparent radicalization — though questions still linger over whether the suspect had any accomplices or contact with groups overseas, and when, exactly, the naturalized U.S. citizen began embracing jihadist ideologies. Rahami had his journal with him when he was captured. The rambling writings — stained with blood and punctured by bullets from the Jersey shoot-out — reveal some of his radical sympathies. "F.B.I. & homeland security [unintelligible] looking for me [unintelligible] my heart I pray to the beautiful wise ALLAH," Rahami allegedly wrote. "To not take JIHAD away from. I beg [unintelligible] for shahadat [martyrdom] & Inshallah [God willing] this call will be A[n]swered."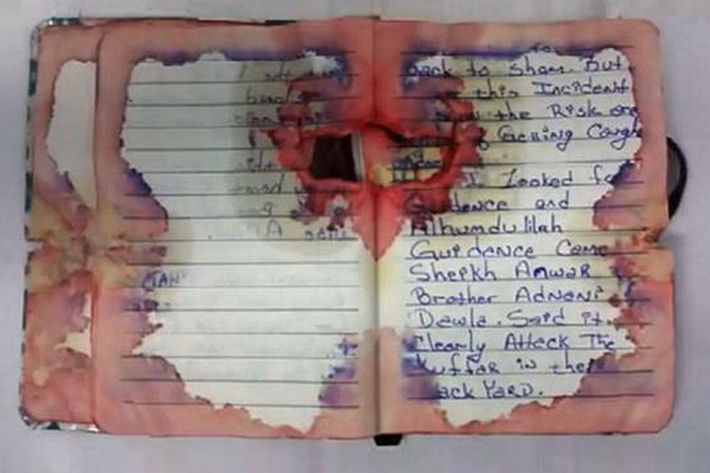 Rahami mentions "Brother" Osama bin Laden; Anwar al-Awlaki, the Yemeni-American Al Qaeda cleric who was killed by a U.S. drone strike in 2011; Nidal Hasan, the Fort Hood gunman; and the Boston Marathon bombers. Rahami does not appear to mention ISIS in the text, hinting at an Al Qaeda–inspired attack, reports the Washington Post.

"Inshallah the sounds of the bombs will be heard in the streets," Rahami wrote in the last line of his journal. "Gun shots to your police. Death To Your OPPRESSION."
There is also a cell-phone video. Filmed Thursday, two days before the Seaside Park and Chelsea blasts, it appears to show Rahami igniting a "cylindrical container," which detonates with a loud blast, and smoke. There is laughter. Rahami then appears in the frame of the video, according to the complaint, and picks up the device. Geolocation technology puts that possible test-run near the apartment, raided by the FBI Monday, in Elizabeth, New Jersey.
Investigators who scoured the crime scenes found plenty of additional physical evidence against Rahami, including fingerprints on the unexploded device on West 27th Street in Chelsea and the IEDs dumped in Elizabeth.
Authorities also have revised up the count of those injured in the Chelsea bombing on West 23rd Street to 31 people, from 29. There were no fatalities, but the criminal complaint describes a device designed to inflict maximum damage, packed with steel nuts and metal ball bearings, which — along with debris like glass and wood shards — lodged in the skin and bones of its victims. Bomb fragments were found 650 feet away from the detonation site, and its force shattered windows about 400 feet from the center of the blast. The 100-pound dumpster flew 120 feet.
Still under investigation are Rahami's trips to Afghanistan and Pakistan, including an extended stay in Quetta, a Taliban stronghold, that lasted about a year, from 2013 to 2014. Rahami's wife, whom he reportedly married on a trip to Pakistan, had left the United States days before the explosions. Federal investigators have tracked her down and questioned her in the United Arab Emirates, and are in the process of bringing her back to the United States, reports the New York Times.
Rahami was also not on any watch list, though reports Tuesday said Rahami's father, Mohammad Rahami, had called his son a terrorist after a domestic dispute. Ahmad Rahami had allegedly tried to stab one of his brothers; he was arrested and spent some time in jail, but he was never indicted by a grand jury. Federal authorities conducted an initial assessment of those allegations, but closed the case.
Rahami's first court hearing could come as early as Wednesday, though he may have to appear remotely via video from his hospital bed to hear the charges against him.