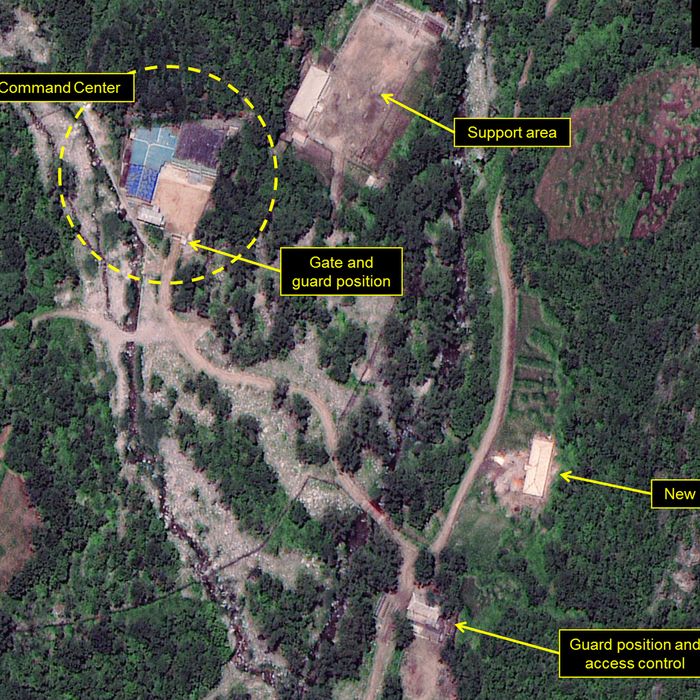 Satellite imagery shows a new building at Punggye-ri in July.
Photo: DigitalGlobe/38 North via Getty Images
North Korea has apparently conducted a fifth nuclear test, as the regime considers scaring the rest of the world a key part of any national holiday. Around 9:30 a.m. on Friday, as North Korea celebrated the 68th anniversary of the foundation of the communist regime by Kim Il Sung, a magnitude 5.3 artificial earthquake was detected near Punggye-ri. When North Korea launched its fourth nuclear test in January, there was a magnitude 5.1 tremor at the nuclear test site.
Officials from several nations, including the United States Geological Survey, are still gathering information about the seismic event, but many analysts are already convinced that it was a nuclear test. Jeffrey Lewis, director of the East Asia Nonproliferation Program at the James Martin Center for Nonproliferation Studies in Monterey, California, told the Washington Post that it appears to be the biggest test North Korea has conducted.
"This is clearly a nuclear test," Lewis said. "USGS is calling it an explosion because it has all the hallmarks: the waveform is sudden unlike an earthquake, the depth is shallow, the location is the North Korean test site, and it happened on the half hour."
Two months ago, the U.S.-based North Korea monitoring project 38 North said satellite images showed movement at North Korea's nuclear test site. Earlier today, 38 North pointed out that mining carts and a new structure are now visible.

United Nations sanctions against North Korea were tightened earlier this year. On Thursday in Laos, President Obama called on China to take stronger action against its neighbor. "China has done more on sanctions implementation than they have on previous UN Security Council resolutions," Obama said. "We continue to indicate to them the importance of tightening up."
The U.S. plans to deploy a missile defense system called THAAD to protect South Korea, despite the objections of China and Russia. "We cannot have a situation where we're unable to defend ourselves or our treaty allies against increasingly provocative behavior," Obama said.