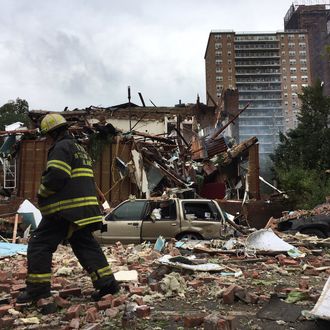 Photo: NYC Mayor's Office/Twitter
A firefighter has been killed after a suspected drug den exploded Tuesday morning in the Kingsbridge section of the Bronx. Battalion Chief Michael Fahy, a 17-year FDNY veteran, was fatally hurt by flying debris in a house nearly obliterated by a possible gas explosion. More than 10 other people — including other FDNY members, police officers, ConEd workers, and at least two civilians — were wounded in the blast or its aftermath, though the seriousness of their injuries is unknown.
Fahy was reportedly standing in the street when he was struck by a slab of the roof that had been torn off in the explosion. He was taken to the hospital, where he died of his injuries. "It's a sad day," FDNY Commissioner Daniel Nigro said at a news conference about the father of three. "Thankfully, this doesn't happen every day, but when it does, it doesn't make it any easier. We lost a hero today."
Firefighters were reportedly responding to a call about a gas smell wafting out of a Bronx home on West 234th Street. Fire personnel searched the home and quickly discovered what looked an indoor marijuana grow with propane tanks, reports DNAinfo. Firefighters phoned in police, but also turned off the gas and evacuated the building and those living in the houses next door.
The house exploded shortly after the NYPD arrived on the scene, and before they could examine the suspected lab, reports NBC 4. The explosion destroyed the two-story home, ripping apart its roof and shooting debris into the street, where many of the first responders were posted. "I was sleeping and I heard this loud bomb, explosion," neighbor Barbara Nardo told CBS 2. "I thought maybe it was lightning that hit a car or something."
More than 100 firefighters responded to the scene, and the area is still blocked off. NYPD Commissioner James O'Neill said that cops had gotten a tip last week of a drug operation at that address and had been investigating.
This post has bee updated throughout.