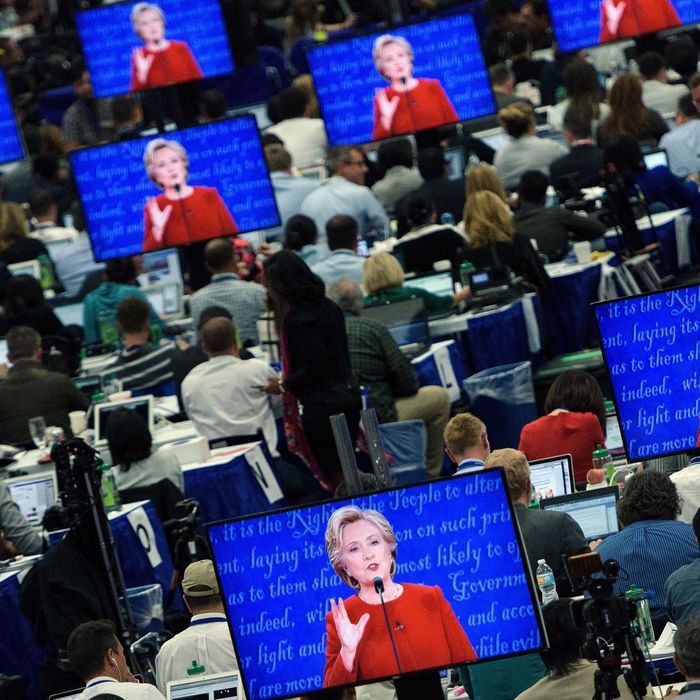 Photo: Brendan Smialowski/AFP/Getty Images
As expected, Monday's opening showdown between Hillary Clinton and Donald Trump drew a massive — and record-breaking — audience, with at least 80.9 million viewers tuning in across 12 broadcast and cable networks, according to Nielsen data obtained by CNN Money. That makes last night's 93-minute matchup the most-watched presidential debate ever, and represents a roughly 20 percent jump over the 67.2 million viewers who caught the first debate between President Obama and Mitt Romney four years ago. What's more, the 80.9 million figure will tick even higher once PBS is added to the tally, and it also doesn't include the millions who likely watched online. The previous most-watched debate was the first (and only) slugfest between President Jimmy Carter and challenger Ronald Reagan, which Nielsen estimates drew 80.6 million on October 28, 1980 — just days before the election.
Trump-Clinton has now surpassed that tune-in total, but there's an important asterisk attached to this "record." The U.S. population in 2016 is currently estimated at just shy of 325 million people — a full 100 million larger than the number of Americans alive in 1980. So, as a percentage of the population, Monday's debate simply didn't dominate viewing the way Reagan-Carter did. In fact, the 1980 debate itself isn't the biggest debate in American history when measured by percentage of homes who watched. That honor actually goes to the penultimate of the four Nixon-Kennedy debates, which Nielsen says reached 61 percent of all American living rooms. Carter-Reagan was seen in 58.9 percent of homes. Nielsen has not yet released its household estimate for Clinton-Trump, but it almost certainly didn't surpass either of the aforementioned debates. This doesn't mean Monday's matchup wasn't a blockbuster: In an age of audience fragmentation and limitless viewing choices, these numbers are nothing to sniff about. But in terms of capturing the attention of the country as a whole, it was not a historical watershed.