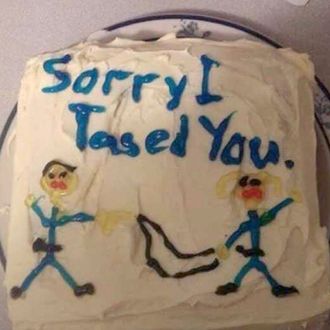 This cake is not related to the Florida incident, but it's still amazing.
A sheriff's deputy in Florida has learned from experience that accidentally tasing a woman and then baking her a cake does not get you off the hook. The woman, who says the deputy tased her at the apartment complex where she works, is now suing, the Pensacola News Journal reports. According to her complaint, the deputy stole her sweet tea, and when she approached him to get it back, he shot her with his Taser. Then he jumped on to her chest and "forcefully removed the Taser prods." He later apologized with a truly hideous homemade cake that said "Sorry I Tased You" and included a stick-figure drawing of the incident. The deputy resigned a month later.
Update: As Gizmodo notes, while the image above appeared with the Pensacola News Journal report, it was posted on Reddit long before the Florida incident occurred. It's unclear if the baked good shown in the photo is a hoax, or baking cakes for Tasing victims is more common than we realized.